Even though many of us are still in the eye of the storm, there's an important fact to remember: During the pandemic, SaaS came to the rescue with superhero speed and efficiency. Over a billion people became dependent on SaaS solutions overnight. The internet, the cloud, and SaaS applications for communicating, signing documents, and collaborating in a socially-distanced world worked flawlessly.
The recurring revenue model made it all possible. Instead of having to buy, install and manage expensive infrastructure, solutions that were vital to keep us going were available to everyone from big companies to teachers and students.
Unfortunately, we're now dealing with some of the after-effects of the return to normal, and finding that the order-taking, growth-at-all-costs mindset doesn't work anymore.
Growth rate alone can't be how we measure business health and potential in this new age. Sustainable and durable growth is the new Northstar, based on an efficient go-to-market engine.
Figure 1, from Public SaaS company data, shows how we might take both growth rate and go-to-market efficiency into account to determine our best course of action. Those below the trendline have varying growth rates but have likely focused on making their GTM engine appropriately efficient.
Durable vs. Sustainable vs. Scalable Growth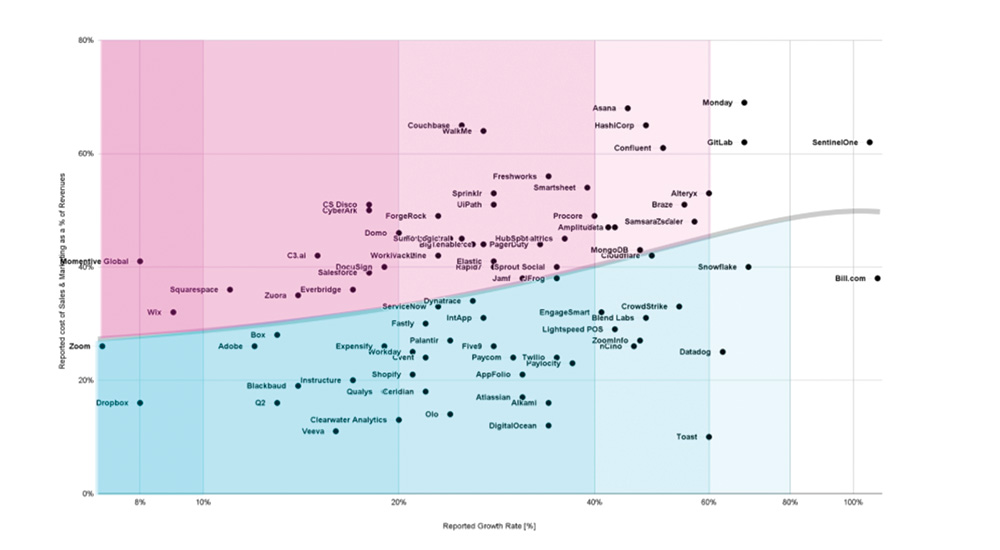 Figure 1. Public SaaS companies plotted by reported growth rate and cost of sales and marketing as a % of revenue, with trendline.
Companies in the lower right are experiencing sustainable growth – high rates of growth at relatively efficient costs. Those on the lower left end have made themselves durable – mostly established companies with lower growth rates, but right-sized GTM expenses.
Those above the trendline, however, are likely in the midst of figuring out the best ways to go-to-market and achieve efficiency without growth falling through the floor. These companies are stil in "scalable growth." Companies in this category have taken drastic measures to cut costs – like layoffs. But they still have work to do to build efficiency, and produce signs of growth with remaining resources.
It's critical that you know where you stand and where you need to go to improve go-to-market efficiency. Here are some resources to help…
WbD and BenchSight New Resource for Revenue Operation Junkies
Winning by Design together with our partner BenchSights is offering real-time data insights, providing you with an opportunity to compare yourself anonymously against your peers in the market. Visit: www.benchsights.com/wbd.
WbD Spring 2023 Solutions Designed for a New Normal
If you are looking to achieve immediate impact, and are tasked to do more with less, e.g. to move toward sustainable and durable growth, let us help! We have launched four solutions, to do just that:
Figure 2. Four solutions streamlined to help you achieve your goals in 2023.
Solution 1. The Revenue Academy. Quick to deploy. Maximum flexibility.
This solution focuses on companies that have multiple front-line reps across different functions that need to be trained. You can send 2 CSMs to one course, 4 AEs to another, and 2 SDRs to yet another. You can even send the manager to their own course. When all of them achieve certification, they all speak the same language and are interoperable with each other.
What is new in the Revenue Academy
Sign-up now for the Revenue Academy's Open Courses, spots are still available April and/or May. Check availability here:
Solution 2. Impact Sprints. Designed to make an impact in <90 days.
This solution focuses on training only one specific skill, for example, Overcome Indecision with JOLTTM. This skill is then trained in a masterclass session, but WbD trainers then coach on the application of this skill in real deals over a period of 4 weeks. We've got an upcoming public workshop on one of our most requested Impact Sprints:
Public Workshop – How to Prospect for Sellers
Learn about our response to one of the most common requests we've heard lately: How do I get my sellers to prospect? Dan and Jacco explain what's prompting this request, and provide 5 key actions sellers can take to start prospecting right away. These are techniques WbD's own people are trained on.
When: Thursday, April 13, 10am
Who: Dan Smith and Jacco van der Kooij
Solution 3. "The _____ Way." Designed to help organizations increase sales productivity.
This solution helps larger ScaleUps and GrownUps who have multiple GTM solutions to align on a single operating model to increase the efficiency of the organization. It creates interoperability between all your means and methods across the entire customer journey. It establishes a common language and a continuous improvement culture.
Solution 4. Online Selling modernizes large sales organizations with the latest skills and tools.
In this program, we establish a series of online techniques to create a variety of speeds of communication. Many organizations have been optimized around in-person selling but online has proven to be a lot more efficient. We teach techniques such as asynchronous, and synchronous. All these techniques can help your individual contributors to distinguish themselves from the competition and take away market share.
Impact is the way. Say it with me, No Recurring Impact, No Recurring Revenue!
From all of us at Winning by Design, with love.