About the Course
Enterprise sales teams have unique challenges: non-linear sales process, complex stakeholder map to manage, and a far deeper level of acumen required from enterprise sellers. Enterprise reps must learn how to move from consultative selling to provocative selling in order to successfully manage large deals, with a proven and repeatable sales process.
Best for:
CROs
VPs of Sales
Enterprise Account Executives
AEs managing complex deals
Course format:
8 hours live instruction; one 2-hour session each week
Delivered via Zoom video conference
Exclusive access to blueprints, videos, and exercises
Industry-recognized certification
Maximum number of learners: 25
Price
$2,500 per seat
or contact us for a private course for your team
Prerequisites
Recommended for reps with 5+ years of experience managing large complex accounts. For training on fundamentals of selling, see the Selling for Impact course.
Curriculum
Learners engage with their certified Trainer in an experiential learning format, with 8 hours of live instruction including role plays, breakouts, and recurring revenue frameworks applied to real-world situations. Each learner receives access to our learning management platform for concept reinforcement through videos and frameworks.
Ongoing reinforcement
Get the highest possible ROI on your training investment with additional Skills Coaching. The biweekly live sessions will help your reps truly master the skills they learned in this course, and create behavior change that sticks using hands-on practice and active coaching through real customer scenarios and deals.
Specific skills covered to reinforce the key concepts in this course include:
Identifying the Decision Makers
How to Demo
Impact Questions
Trading
Uncovering Critical Events
Week1.
Provocative Selling
Provocative selling for enterprise
Fundamental concepts
Crafting a provocative PoV
Week2.
Orchestrating the Account
Understanding critical events
Creating urgency with a Joint Impact Plan
Navigating the decision process
Week3.
Influencing Stakeholders
Influence decision criteria for success
Preparing for a stakeholder meeting
Holding the stakeholder meeting
Week4.
Driving to Commit
Proof of concept
Trade vs. negotiate
Pulling it all together
Certification
When you pass the exam at the end of the course, you will receive the following industry-recognized certification that you can post to your LinkedIn profile.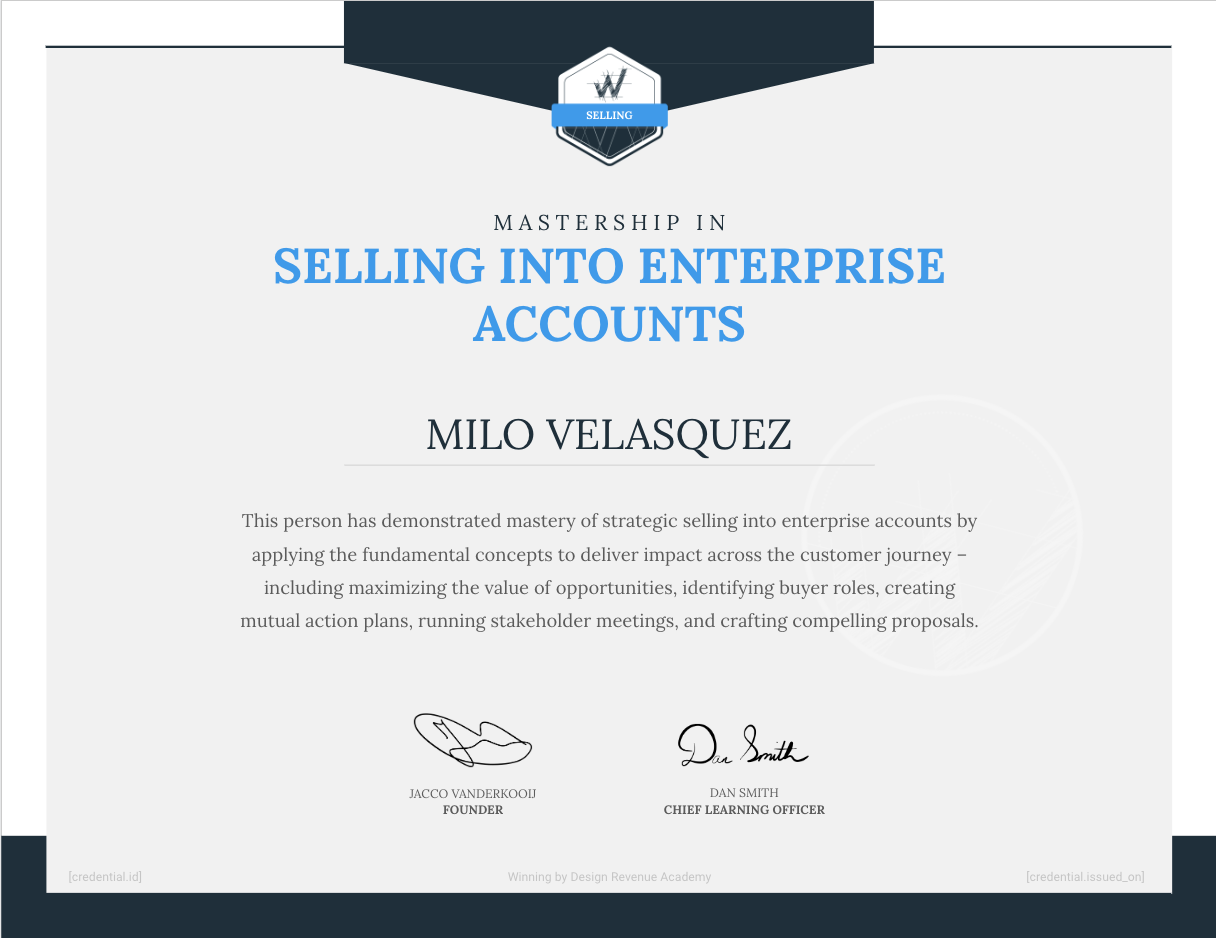 Taken by employees at




Training for 8 or more people?
Contact us to discuss private course options.