About the Course
Enables Enterprise reps to navigate complex selling environments, including stakeholder meetings, opportunity management, and provocative statements.
Best for:
Account Development Managers
Account Executives
Advanced sales professionals
Course format:
8 hours live instruction; one 2-hour session each week
Delivered via Zoom video conference
Exclusive access to blueprints, videos, and exercises
Industry-recognized certification
Maximum number of learners: 25
Price
Contact us for a private course for your team
Prerequisites
Recommended for reps with 5+ years of experience managing large complex accounts. For training on fundamentals of selling, see the Selling for Impact course.
Curriculum
Learners engage with their certified Trainer in an experiential learning format, with 8 hours of live instruction including role plays, breakouts, and recurring revenue frameworks applied to real-world situations. Each learner receives access to our learning management platform for concept reinforcement through videos and frameworks.
Week1.
Delivering Impact Across the Customer Journey
Provocative Sales Methodology: Discover how sales has changed, the Moments That Matter, and where to apply your expertise using the Provocative Sales Methodology
Impact & Critical Event: Uncover emotional and rational impact, and apply it to critical events that customers recognize
Week2.
Maximizing the Value of Opportunities
Provocative Statements: Learn how to craft a research-based statement that provokes interest with executives
Decision Criteria: Build a decision criteria matrix to win against competitors and maximize the value of opportunities
Week3.
Identifying & Influencing Distinct Buyer Roles
Decision Process: Learn how to effectively navigate complex internal decision committees, identifying and influencing those involved in the decision process
How to Demo Remotely: Explore best practices for delivering demos remotely, holding audience attention, and closing deals more quickly
Week4.
Creating Mutual Action Plans & Running Stakeholder Meetings
Mutual Action Planning: Create mutual action plans to identify a clear path forward, that the seller and customer stakeholders all agree upon
Stakeholder Meetings: Explore the parts of running a successful stakeholder meeting, beginning with gaining alignment through to the "call before the call."
Week5.
Crafting Compelling Proposals & Aligning Teams Throughout Account Planning
Impact Proposal & Proof of Concept: Discover how innovative companies can sell large, complex deals through proof of concepts, and learn best practices for delivering quality remote proposals
Account Management Techniques: Learn techniques to efficiently manage account opportunities, and explore a persona-based approach to orchestrating and aligning resources.
Certification
When you pass the exam at the end of the course, you will receive the following industry-recognized certification that you can post to your LinkedIn profile.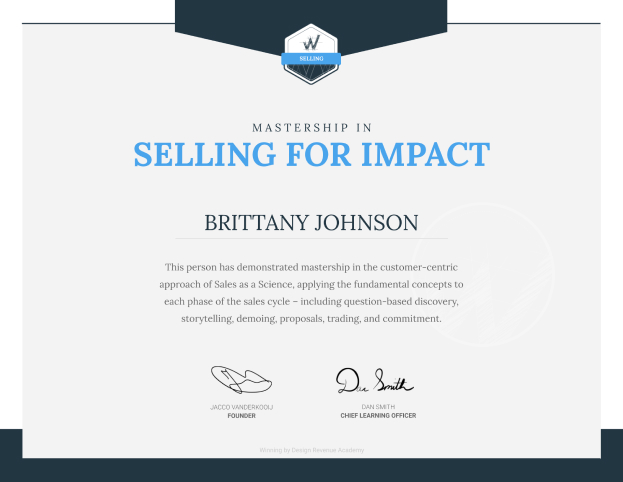 Taken by employees at



Training for 8 or more people?
Contact us to discuss private course options.