About the Course
Learn the skills needed to better navigate complex selling environments—including how to conduct stakeholder meetings, manage opportunities, and craft provocative statements.
Best for:
Enterprise Account Executives
AEs managing complex deals
Blended course format:
8 hours LIVE instruction; one 2-hour session each week
Delivered via Zoom video conference
Exclusive async access to blueprints, videos, and exercises
Industry-recognized certification
Maximum number of learners: 25
Price
$2,500 per seat
or contact us for a private course for your team
Prerequisites
Recommended for reps with 5+ years of experience managing large complex accounts. For training on fundamentals of selling, see the Selling for Impact course.
Curriculum
Learners engage with their certified Trainer in an experiential learning format, with 8 hours of live instruction including role plays, breakouts, and recurring revenue frameworks applied to real-world situations. Each learner receives access to our learning management platform for concept reinforcement through videos and frameworks.
Week1.
Provocative Selling
MODULE 1
Provocative Selling for Enterprise
Learning Objective: Understand the different types of selling methodologies—and how and when to deploy a provocative selling approach.
MODULE 2
Fundamental Concepts
Learning Objective: Appreciate the shifted dynamics of SaaS vs. perpetual sales, how the bowtie KPIs capture the modern customer journey, and the science of ARR growth caused by incremental improvements.
MODULE 3
Crafting a Provocative Point of View
Learning Objective: Leverage a framework for developing a unique and provocative point of view to align your solution with each level of your customer's hierarchy. Use AI to convert 10-Ks into provocative statements.
Week2.
Orchestrating the Account
MODULE 4
Understanding Critical Events
Learning Objective: Establish the "why now?" for your customer by testing momentum and understanding related and competing priorities.
MODULE 5
Creating Urgency With a Joint Impact Plan
Learning Objective: Anticipate the steps required in your customer's evaluation and selection process—and map those back to a critical event. Execute a plan to identify buyer roles and uncover your buying champion.
MODULE 6
Navigating the Decision Process
Learning Objective: Identify the key buying committee roles, learn to navigate gatekeepers, and create a deal strategy map.
Week3.
Influencing Stakeholders
MODULE 7
Influencing Decision Criteria for Success
Learning Objective: Reframe decision criteria through the lens of impact. Learn how to offer an alternative approach and reshuffle the deck in your favor.
MODULE 8
Preparing for a Stakeholder Meeting
Learning Objective: Test and adapt your provocative point of view with key individual stakeholders. Learn to build consensus and gain commitment.
MODULE 9
Facilitating the Stakeholder Meeting
Learning Objective: Bring the stakeholders together, seek the "red thread" that connects, use critical events, and execute a Joint Impact Plan to inspire action and desire for future impact.
MODULE 10
Proof of Concept
Learning Objective: Manage a proof of concept to a successful buying outcome, and maximize decision-maker influence.
MODULE 11
Trade vs. Negotiate
Learning Objective: Successfully navigate procurement teams to secure a win-win deal.
MODULE 12
Pulling it All Together
Learning Objective: Review the end-to-end learning path, recap core concepts, and receive a primer ahead of the certification exam.
Ongoing reinforcement
Get the highest possible ROI on your training investment with ongoing reinforcement via our skills coaching program, library of key content and frameworks, and reporting resources.
The biweekly live sessions of our Skills Coaching program will help your reps truly master the skills they learned in this course, and create behavior change that sticks using hands-on practice and active coaching through real customer scenarios and deals.
Specific skills covered to reinforce the key concepts in this course include:
Identifying the Decision Makers
How to Demo
Impact Questions
Trading
Uncovering Critical Events
We also offer access to our enablement content library containing hundreds of WbD videos, blueprints, research materials, frameworks, worksheets, and templates to support teams utilizing WbD's customer-centric GTM training and methodologies. Enablement teams and managers can leverage this library to help reinforce, coach, and train your teams—improving their skills and knowledge.
WbD Blended Learning Course Format
Course Prep
-

Watch trainer intro video

-

LMS login and prep work

30-45 min

-
Week 1
-

Live session

2 hours

-

Online learning prep

30-45 min

-
Week 2
-

Live session

2 hours

-

Online learning prep

30-45 min

-
Week 3
-

Live session

2 hours

-

Online learning prep

30-45 min

-
Week 4
-

Live session

2 hours

-

Certification exam

approx. 60 min

-
Course Prep
-
Watch trainer intro video
-
LMS login and prep work
30-45 min
-
Week 1
-
-
Online learning prep
30-45 min
-
Week 2
-
-
Online learning prep
30-45 min
-
Week 3
-
-
Online learning prep
30-45 min
-
Week 4
-
-
Certification exam
approx. 60 min
-
*Certificates can be added to Learners Linkedin Profile | *Actual course cadence may vary
Taken by employees at




0
Trained on this course to date
I am new to sales, and the course helped give me a framework from which to build my sales persona. This was an excellent course for beginners, and a good refresher for experienced sales people. Winning by Design has helped me better understand how to structure a call by being prepared and focused. Additionally, the time management techniques were very helpful.
The mix of independent study materials, videos, and in-person training are all very well put together and helpful. I loved the emphasis on immediately taking what we learned and applying it to our sales conversations. The practical design of the course has already strengthened my current conversations with prospects.
The online sessions were enjoyable and highly interactive; the content was challenging (and right on). When you complete this course, you'll have the tools and frameworks you'll need to help you better communicate with your customers and sell with confidence. I highly recommend the course and Winning by Design.
Extremely informative, engaging, and entertaining! Winning by Design has completely transformed my sales process and provided me with the necessary skills that are fundamental in developing my sales career. Leaves me feeling confident and ready to apply my learnings daily. Inspired me to grow within my career.
SaaS sales training that works! WbD helps solve the challenges that sales pros face day to day in a SaaS environment. I gained practical skills to use in calls, demos, and negotiations to help me speed up my sales process. Loved the style of teaching!
Certification
When you pass the exam at the end of the course, you will receive the following industry-recognized certification that you can post to your LinkedIn profile.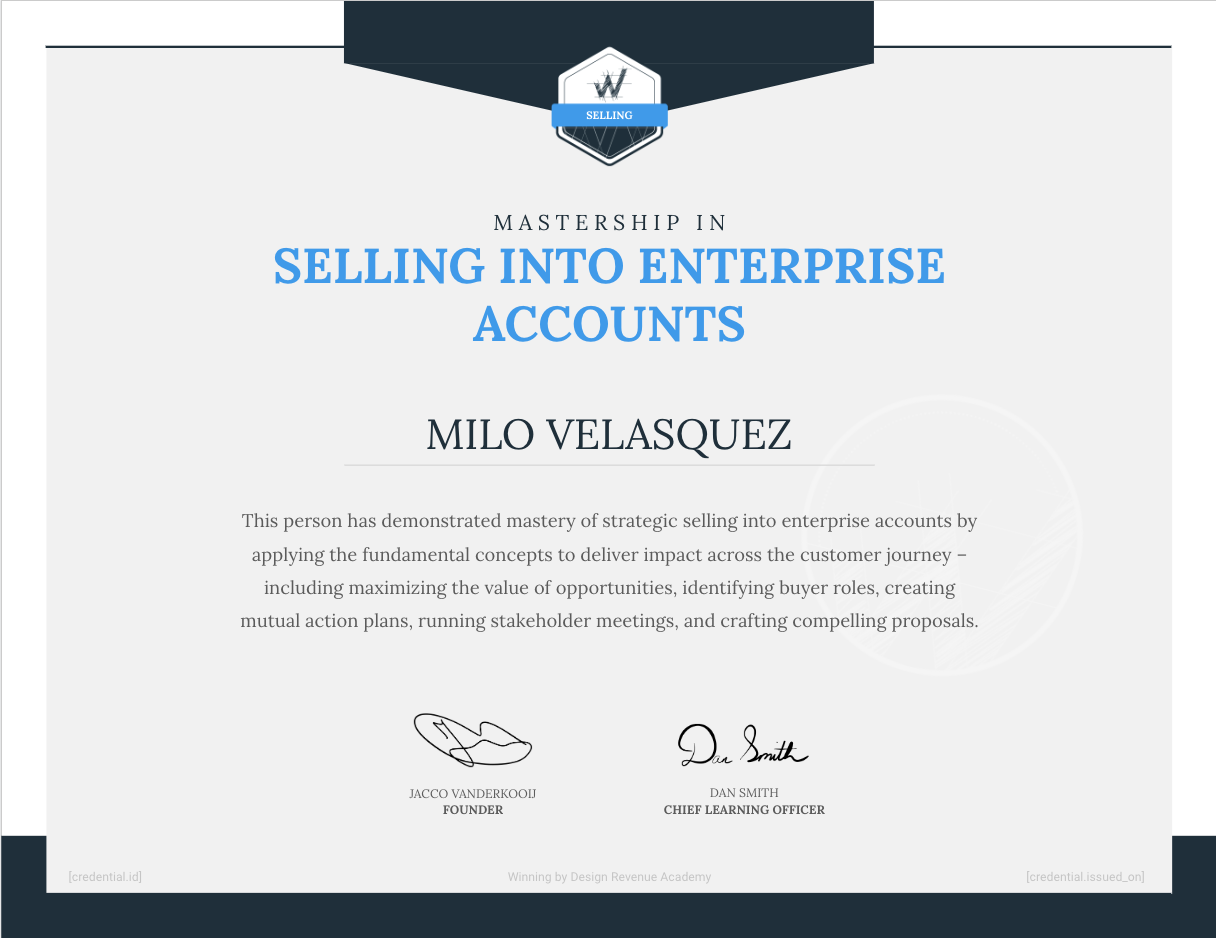 Training for 8 or more people?
Contact us to discuss private course options.