About the Course
Learn the skills required to bring recurring impact to your customers with every interaction, resulting in recurring revenue for your business. Understand the key moments that matter across the customer journey, how to apply customer-centric principles at each phase, and how to grow and expand your customer accounts.
By the end of the course, you will be well equipped to proactively manage and grow your accounts.
Best for:
CSMs and Account Managers who are responsible for customer account management and account growth
Course format:
8 hours live instruction; one 2-hour session each week
Delivered via Zoom video conference
Exclusive access to blueprints, videos, and exercises
Industry-recognized certification
Maximum number of learners: 25
Price
$1,500 per seat
or contact us for a private course for your team
Prerequisites
None.
Curriculum
Learners engage with their certified Trainer in an experiential learning format, with 8 hours of live instruction including role plays, breakouts, and recurring revenue frameworks applied to real-world situations. Each learner receives access to our learning management platform for concept reinforcement through videos and frameworks.
Week1.
The SaaS Method for Customer Success
MODULE 1
The SaaS Method for Customer Success
Learning Objective: Explore how sales has changed and the moments that matter in the customer's journey, including First Value and Full Value.
MODULE 2
Diagnosis Across the Customer Journey
Learning Objective: Discover how to speak the same language across your organization (as it relates to customer success) and summarize opportunities through the diagnostic framework, SPICED.
MODULE 3
The Science of Effective Communication
Learning Objective: Interactions: Illustrate effective communication with customers based on tone, active listening and techniques that open up a conversation.
MODULE 4
The Structure of Executive Customer Calls
Learning Objective: Identify how to effectively open calls to capture attention and set the stage for a productive meeting, increasing impact and the CSM's executive presence.
MODULE 5
How to Ask Great Questions
Learning Objective: Demonstrate how to craft and ask questions to help customers articulate desired impact. Explore techniques on how to "go deeper" and navigate unexpected responses.
MODULE 6
First Value & Getting to Impact
Learning Objective: Orchestrate a plan to make your customers successful by aligning their goals with a timeline to achieve desired impact.
Week3.
Storytelling & Impact Review
MODULE 7
Leading Strong Impact Reviews
Learning Objective: Conduct Executive Business Reviews with stakeholders throughout their customer journey to uncover opportunities for
more impact.
MODULE 8
How to Share a Compelling Story
Learning Objective: Share stories to influence customers and help them see new impact opportunities without pitching. Use AI to help deliver engaging stories.
Week4.
Expanding the Partnership
MODULE 9
Difficult Conversations
Learning Objective: Balance empathy with action to turn negative conversations into something productive to deepen the customer relationship.
MODULE 10
Managing Save Plays based on Trigger Events
Learning Objective: Apply a Save Play based on a triggered event or conversation that could put the customer relationship at risk.
MODULE 11
Engaging Decision Makers
Learning Objective: Identify how to get past blockers and deepen relationships with stakeholders and executives to grow the partnership.
Ongoing reinforcement
Get the highest possible ROI on your training investment with additional Skills Coaching. The biweekly live sessions will help your reps truly master the skills they learned in this course, and create behavior change that sticks using hands-on practice and active coaching through real customer scenarios and deals.
Specific skills covered to reinforce the key concepts in this course include:
Asking SPICED Questions
Difficult Conversations
Internal Handoffs
Business Reviews
Trigger Plays
Kickoff Meetings
WbD Blended Learning Course Format
Course Prep
-

Watch trainer intro video

-

LMS login and prep work

30-45 min

-
Week 1
-

Live session

2 hours

-

Online learning prep

30-45 min

-
Week 2
-

Live session

2 hours

-

Online learning prep

30-45 min

-
Week 3
-

Live session

2 hours

-

Online learning prep

30-45 min

-
Week 4
-

Live session

2 hours

-

Certification exam

approx. 60 min

-
Course Prep
-
Watch trainer intro video
-
LMS login and prep work
30-45 min
-
Week 1
-
-
Online learning prep
30-45 min
-
Week 2
-
-
Online learning prep
30-45 min
-
Week 3
-
-
Online learning prep
30-45 min
-
Week 4
-
-
Certification exam
approx. 60 min
-
*Certificates can be added to Learners Linkedin Profile | *Actual course cadence may vary
Taken by employees at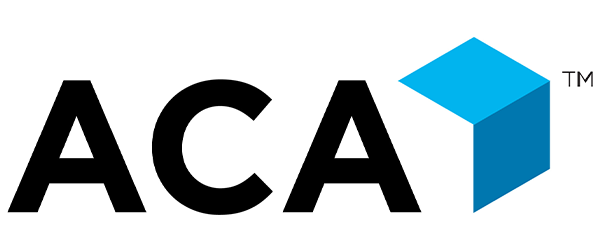 0
Trained on this course to date
The trainers are incredible, as well as the platform itself. The first thing they teach you is how people learn -- then they show you how we'll utilize that knowledge to make our time training together more impactful. Their process exposes you to the information multiple times and in various ways (read, watch, talk it out). The collateral provided is helpful to reference back to as well.
It was great to refresh some sales practice knowledge and learn new ways of how my input can impact my client's decisions and future success. I always love WBD courses, they are interactive and sometimes even put you on the spot but I find it is the best way to actually push me to try something I wouldn't normally do.
I've taken a number of sales courses. They begin to bleed together, but WBD is the most interactive and multi-media approach I've seen. It's interactive, dynamic, and has [a] great staff that frames things in a way that is easy to digest.
Since the day after my first Winning by Design session, I've started to put into my daily work the very useful tips and creating thinking this course gave me. Now I feel I am more in control of the relationship with my customers and I have more "weapons" to efficiently escape from uncomfortable situations.
The Customer Success Managers of my team are more confident in customer calls, especially when it comes to handling difficult conversations and negotiations. It also gives us some good ideas for the improvement of our processes.
Certification
When you pass the exam at the end of the course, you will receive the following industry-recognized certification that you can post to your LinkedIn profile.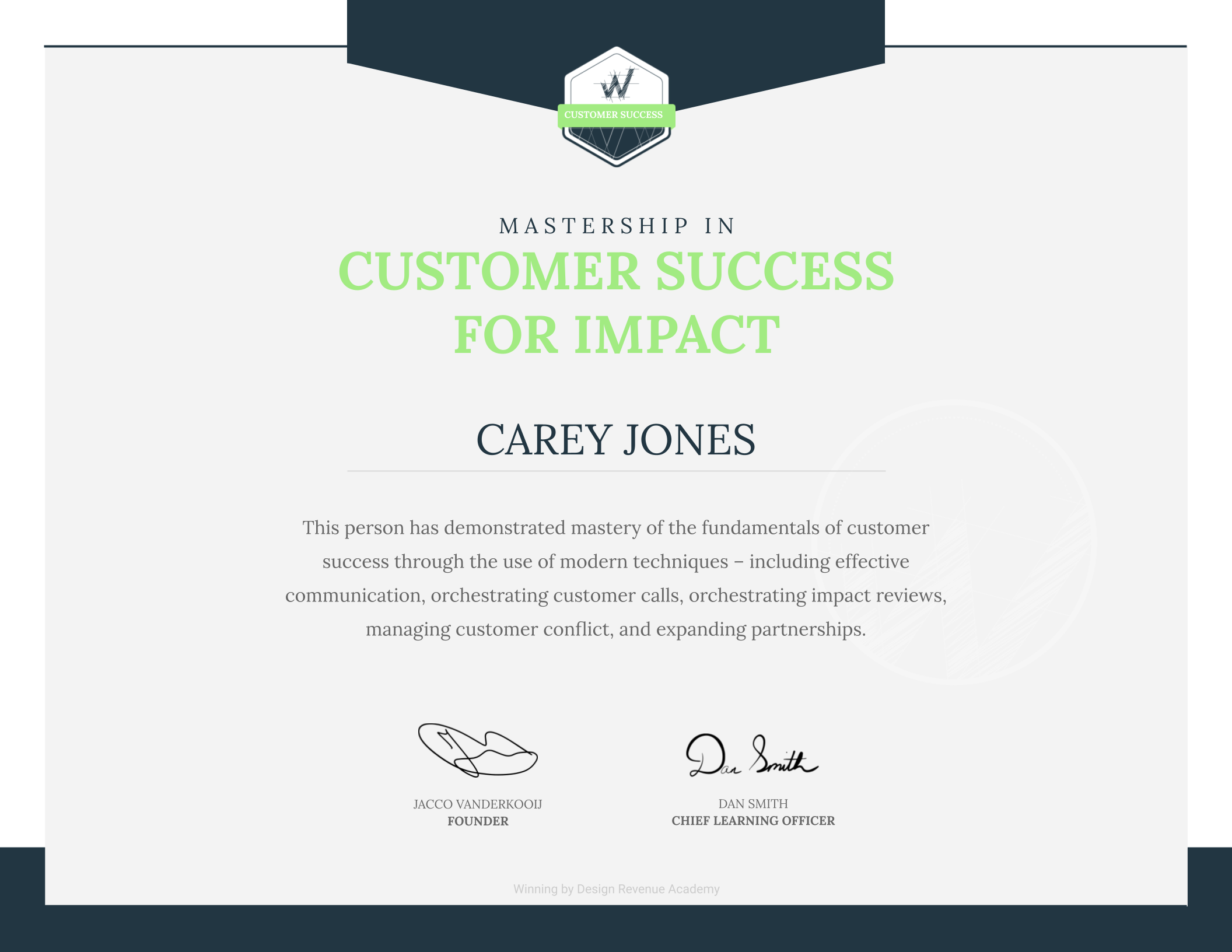 Training for 8 or more people?
Contact us to discuss private course options.