About the Course
Learn how to effectively lead and manage your team, with templates and tools that help you apply the key metrics that matter and develop team members' skills.
Best for:
Frontline managers of SDR, AE, or Customer Success teams
Blended course format:
8 hours LIVE instruction; one 2-hour session each week
Delivered via Zoom video conference
Exclusive async access to blueprints, videos, and exercises
Industry-recognized certification
Maximum number of learners: 25
Price
$2,500 per seat
or contact us for a private course for your team
Prerequisites
Taking the Managing for Impact course first is recommended, but not required.
Curriculum
Learners engage with their certified Trainer in an experiential learning format, with 8 hours of live instruction including role plays, breakouts, and recurring revenue frameworks applied to real-world situations. Each learner receives access to our learning management platform for concept reinforcement through videos and frameworks.
Week1.
Revenue Metrics & Math
MODULE 1
Revenue Metrics Through the Customer Journey
Learning Objective: Identify which metrics to track, why they are important, and how to use them to set clear and achievable goals for your team.
MODULE 2
Revenue Math
Learning Objective: After identifying metrics, split out the metrics by channel, prioritize them, and discover next level equations.
Week2.
Issue Diagnosis & REKS
MODULE 3
Explore Issue Diagnosis
Learning Objective: Explore the what, why, and how of issues and discover approaches for effective resolution.
MODULE 4
REKS & Accountability
Learning Objective: Discover the REKS system to ensure you're having the biggest impact.
Week3.
Metric-Based Leadership and 1:1s
MODULE 5
Structure of 1:1 Meetings
Learning Objective: Use 1:1 meetings to help your direct reports succeed in their role by incorporating career development and aligning meeting cadence with sales velocity.
MODULE 6
Metric-Based Leadership
Learning Objective: Utilize the proper metrics to influence, make decisions, and develop into a great leader.
Week4.
Call Scorecards and "What Good Looks Like"
MODULE 7
Call Scorecards
Learning Objective: Explore call scorecards to create a quantitative measurement for running calls effectively.
MODULE 8
"What Good Looks Like" Creations
Learning Objective: Build, use, and create a scoring schema for a perfect call scorecard.
Ongoing reinforcement
Get the highest possible ROI on your training investment with ongoing reinforcement via our skills coaching program, library of key content and frameworks, and reporting resources.
The biweekly live sessions of our Skills Coaching program will help your reps truly master the skills they learned in this course, and create behavior change that sticks using hands-on practice and active coaching through real customer scenarios and deals.
We also offer access to our enablement content library containing hundreds of WbD videos, blueprints, research materials, frameworks, worksheets, and templates to support teams utilizing WbD's customer-centric GTM training and methodologies. Enablement teams and managers can leverage this library to help reinforce, coach, and train your teams—improving their skills and knowledge.
WbD Blended Learning Course Format
Course Prep
-

Watch trainer intro video

-

LMS login and prep work

30-45 min

-
Week 1
-

Live session

2 hours

-

Online learning prep

30-45 min

-
Week 2
-

Live session

2 hours

-

Online learning prep

30-45 min

-
Week 3
-

Live session

2 hours

-

Online learning prep

30-45 min

-
Week 4
-

Live session

2 hours

-

Certification exam

approx. 60 min

-
Course Prep
-
Watch trainer intro video
-
LMS login and prep work
30-45 min
-
Week 1
-
-
Online learning prep
30-45 min
-
Week 2
-
-
Online learning prep
30-45 min
-
Week 3
-
-
Online learning prep
30-45 min
-
Week 4
-
-
Certification exam
approx. 60 min
-
*Certificates can be added to Learners Linkedin Profile | *Actual course cadence may vary
Taken by employees at




The flipped classroom format really helps with having the content stick. The instructors were awesome! Their energy was spot on and kept us really engaged for 8 hours over a 4-week period. The content that was covered was perfect for anyone who is a manager - extremely specific and relevant. I highly recommend Winning By Design.
This WBD course helped me gain skills and knowledge in coaching others to increase their overall impact. I liked the format, which included break-out sessions between the attendees to discuss the topics during the class. Big fan of the REKS framework! We learned a lot about how to structure high-impact coaching sessions that have a direct impact on results and how to keep people accountable.
Rarely have I experienced training at this level. The sheer number of ways that the Winning by Design team engages you to make sure your understanding of the material sticks is mind-boggling. There were so many different learning modes — videos to watch, great discussions, practical exercises. This multivariate approach activated me!
Provided invaluable frameworks and strategies for my team and me to adopt and use DAILY. I have been able to build out a training program for our SDR team based on WBD and implement a successful coaching strategy.
This wasn't just a traditional training for me. I know I left the course knowing more than I used to and I'm confident that I'll be able to use the resources with my team. A course that will DEFENITELY teach you new things :)
Certification
When you pass the exam at the end of the course, you will receive the following industry-recognized certification that you can post to your LinkedIn profile.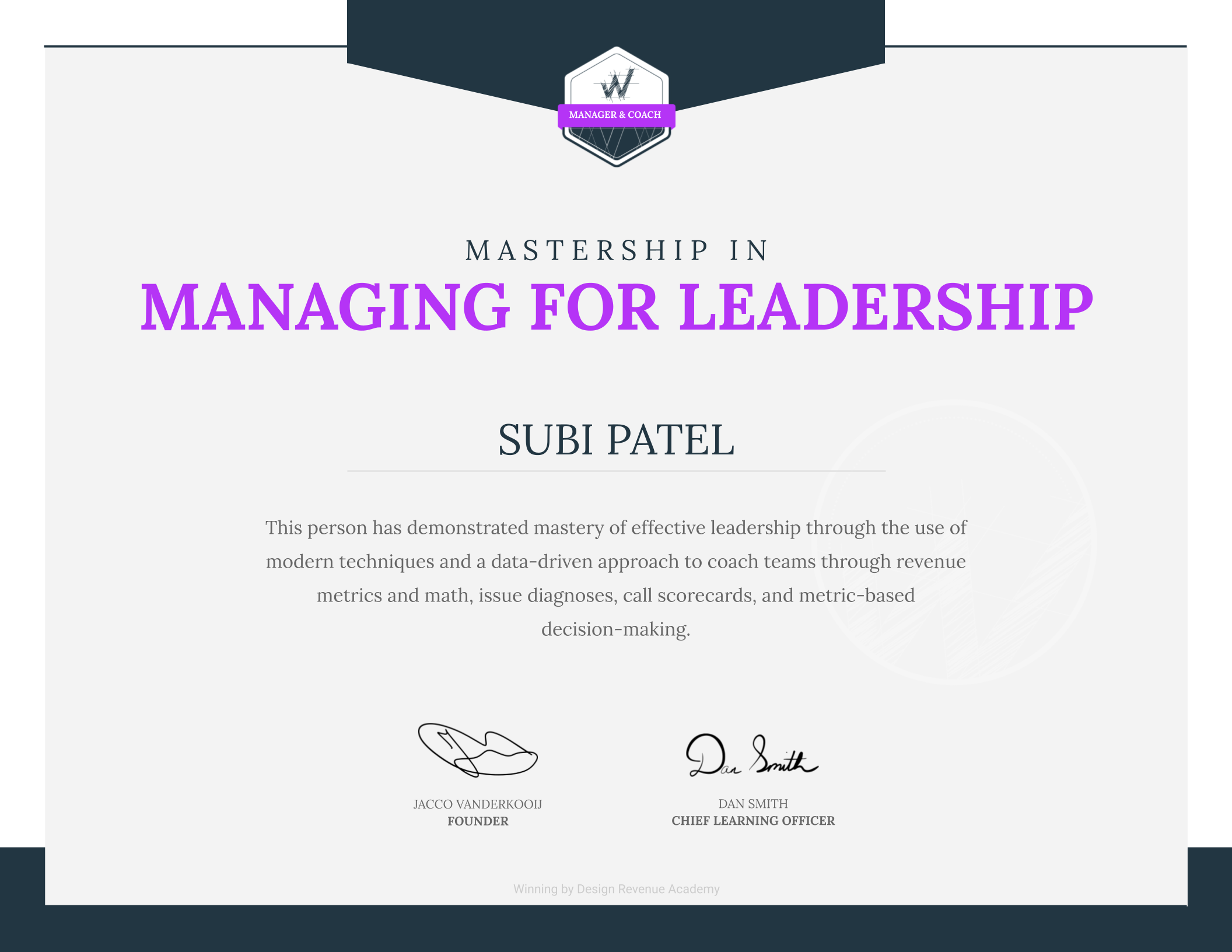 Training for 8 or more people?
Contact us to discuss private course options.