Prerequisites
Taking the Managing for Impact course first is recommended, but not required.
Best for:
Frontline managers of SDR, AE, or Customer Success teams
Course format:
8 hours live instruction; one 2-hour session each week
Delivered via Zoom video conference
Exclusive access to blueprints, videos, and exercises
Industry-recognized certification
Maximum number of learners: 25
Price
$2,500 per seat
or contact us for a private course for your team
Prerequisites
None.
Curriculum
Learners engage with their certified Trainer in an experiential learning format, with 8 hours of live instruction including role plays, breakouts, and recurring revenue frameworks applied to real-world situations. Each learner receives access to our learning management platform for concept reinforcement through videos and frameworks.
Ongoing reinforcement
Get the highest possible ROI on your training investment with additional Skills Coaching. The biweekly live sessions will help your reps truly master the skills they learned in this course, and create behavior change that sticks using hands-on practice and active coaching through real customer scenarios and deals.
Week1.
Revenue Metrics & Math
Revenue Metrics: Throughout the customer journey, identify which metrics to track, why they are important, and how to use them to set clear and achievable goals for your team.
Revenue Math: After identifying metrics, split out the metrics by channel, prioritize them, and discover next level equations.
Week2.
Introduction to Issue Diagnosis
Issue Diagnosis: Explore the what, why and how of issues and discover approaches for effective resolution
Behavior, Process, Skills and Accountability: Discover the BPS (business, process, and skills) system to ensure you're having the biggest impact
Week3.
Structuring a Coaching Cadence
Design and build your manager cadence for a quarterly, monthly and weekly flow to avoid process decay and develop long-term skill mastery.
Week4.
Call Scorecards
Explore call scorecards to create a quantitative measurement for running calls effectively.
Build, use, and create a scoring schema for a perfect call scorecard.
Certification
When you pass the exam at the end of the course, you will receive the following industry-recognized certification that you can post to your LinkedIn profile.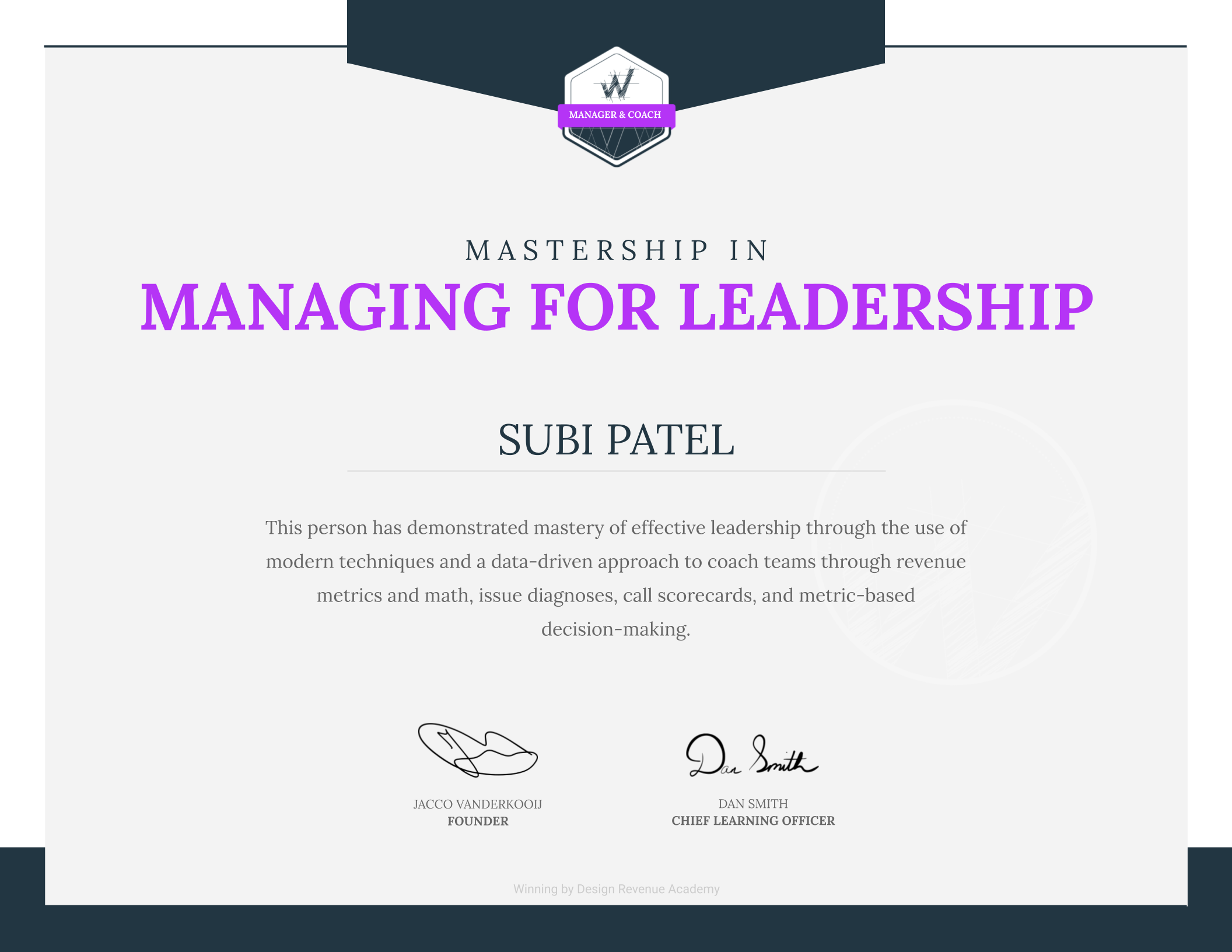 Training for 8 or more people?
Contact us to discuss private course options.