Prerequisites
Taking the Managing for Impact course first is recommended, but not required.
Best for:
Frontline managers of SDR, AE, or Customer Success teams
Course format:
8 hours live instruction; one 2-hour session each week
Delivered via Zoom video conference
Exclusive access to blueprints, videos, and exercises
Industry-recognized certification
Maximum number of learners: 25
Curriculum
Learners engage with their certified Trainer in an experiential learning format, with 8 hours of live instruction including role plays, breakouts, and recurring revenue frameworks applied to real-world situations. Each learner receives access to our learning management platform for concept reinforcement through videos and frameworks.
Week1.
Revenue Metrics & Math
Revenue Metrics: Throughout the customer journey, identify which metrics to track, why they are important, and how to use them to set clear and achievable goals for your team.
Revenue Math: After identifying metrics, split out the metrics by channel, prioritize them, and discover next level equations.
Week2.
Issue Diagnosis & BPS
Issue Diagnosis: Explore the what, why and how of issues and discover approaches for effective resolution
Behavior, Process, Skills and Accountability: Discover the BPS (business, process, and skills) system to ensure you're having the biggest impact
Week3.
Metric-Based Leadership and 1:1s
Structuring of 1:1 Meetings: Use 1:1 meetings to help your direct reports succeed in their role by incorporating career development and aligning meeting cadence with sales velocity
Metric-Based Leadership: Utilize the proper metrics to influence, make decisions, and develop into a great leader
Week4.
Call Scorecards and "What Good Looks Like"
Call Scorecards: Explore call scorecards to create a quantitative measurement for running calls effectively
"What Good Looks Like" Creations: Build, use, and create a scoring schema for a perfect call scorecard
Certification
When you pass the exam at the end of the course, you will receive the following industry-recognized certification that you can post to your LinkedIn profile.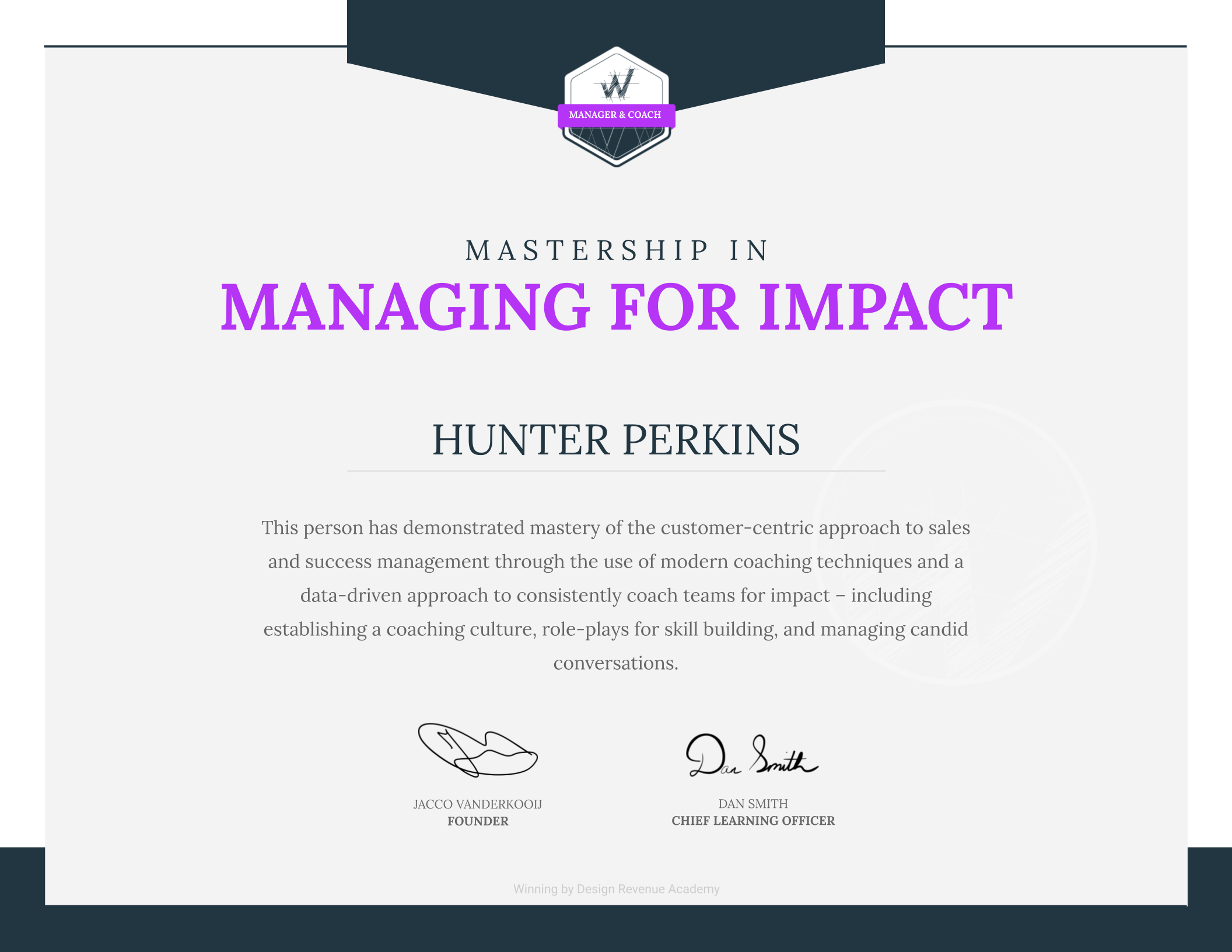 Training for 8 or more people?
Contact us to discuss private course options.