About the Course
Equip yourself with a framework for customer growth, tightly linked with the comprehensive CS Operating Model that gives teams proven best practices for growth planning, account expansion, and securing deals.
Best for:
Account Managers (AMs) and/or Customer Success Managers (CSMs) responsible for customer renewals, expansion, and growth using customer-centric and systems-based skills
Blended course format:
8 hours LIVE instruction; one 2-hour session each week
Delivered via Zoom video conference
Exclusive async access to blueprints, videos, and exercises
Industry-recognized certification
Maximum number of learners: 25
Price
$2,500 per seat
or contact us for a private course for your team
Prerequisites
None.
Curriculum
Learners engage with their certified Trainer in an experiential learning format, with 8 hours of live instruction including role plays, breakouts, and recurring revenue frameworks applied to real-world situations. Each learner receives access to our learning management platform for concept reinforcement through videos and frameworks.
Week1.
Operating Model for Customer Success
MODULE 1
Operating Model for Customer Success
Learning Objective: Explore how all phases of the customer journey connect and influence each other to impact renewal and expansion outcomes. Use this holistic view to leverage key moments to drive long-term success utilizing SPICED.
MODULE 2
Uncovering Expansion Opportunities
Learning Objective: Learn how to effectively ask customer-focused questions throughout the customer journey to keep account insights up to date, surface any risks to the account, and illuminate expansion opportunities that were previously unknown.
Week2.
Strategic Planning for Growth
MODULE 3
Strategic Planning and Collaboration
Learning Objective: Identify and leverage key information and input from across the customer journey and other customer-facing roles to build an effective renewal and growth strategy that delivers maximum impact to your customers AND your business.
MODULE 4
Managing an Effective Renewal Cycle
Learning Objective: Earn the renewal by ensuring customers are aware of the impact they've already achieved, learn how you can help them achieve new goals, and demonstrate why your solution is indispensable. Apply trigger plays to overcome objections and secure the renewal.
MODULE 5
How to Surface and Secure Expansions
Learning Objective: Deep dive into the ways you can surface expansion opportunities, including upsells and cross-sells. Use strategic whitespace analysis and account planning to bring those opportunities to a successful close. Apply specific techniques for handling customer objections.
MODULE 6
Building and Deepening Executive Relationships
Learning Objective: Learn how to build strong executive relationships from the start, unblock gatekeepers, and deepen relationships with stakeholders and executives during all stages of the partnership.
MODULE 7
Trade vs. Negotiate
Learning Objective: Understand how to effectively navigate renewal and expansion deals by focusing on the customer's prioritized goals, creating a give/get balance, and finding win-win solutions.
MODULE 8
How to Share a Compelling Story
Learning Objective: Use the power of storytelling to build relationships and illustrate your solution's impact on the customer's business. Drive renewal and expansion opportunities to close—without "pitching" or relying solely on features and functionality. Use AI to help deliver engaging stories.
Ongoing reinforcement
Get the highest possible ROI on your training investment with ongoing reinforcement via our skills coaching program, library of key content and frameworks, and reporting resources.
The biweekly live sessions of our Skills Coaching program will help your reps truly master the skills they learned in this course, and create behavior change that sticks using hands-on practice and active coaching through real customer scenarios and deals.
Specific skills covered to reinforce the key concepts in this course include:
Asking SPICED Questions
Difficult Conversations
Internal Handoffs
Business Reviews
Trigger Plays
Kickoff Meetings
We also offer access to our enablement content library containing hundreds of WbD videos, blueprints, research materials, frameworks, worksheets, and templates to support teams utilizing WbD's customer-centric GTM training and methodologies. Enablement teams and managers can leverage this library to help reinforce, coach, and train your teams—improving their skills and knowledge.
WbD Blended Learning Course Format
Course Prep
-

Watch trainer intro video

-

LMS login and prep work

30-45 min

-
Week 1
-

Live session

2 hours

-

Online learning prep

30-45 min

-
Week 2
-

Live session

2 hours

-

Online learning prep

30-45 min

-
Week 3
-

Live session

2 hours

-

Online learning prep

30-45 min

-
Week 4
-

Live session

2 hours

-

Certification exam

approx. 60 min

-
Course Prep
-
Watch trainer intro video
-
LMS login and prep work
30-45 min
-
Week 1
-
-
Online learning prep
30-45 min
-
Week 2
-
-
Online learning prep
30-45 min
-
Week 3
-
-
Online learning prep
30-45 min
-
Week 4
-
-
Certification exam
approx. 60 min
-
*Certificates can be added to Learners Linkedin Profile | *Actual course cadence may vary
Taken by employees at




0
Trained on this course to date
Winning by Design delivered some fantastic CS training addressing both the science and the art of Customer Success. They covered some key methodologies as well as some of the softer skills associated with delivering value to our customers.
Winning by Design reintroduced certain processes that are not commonly used but should be. They reminded us to keep it simple and gave great ways to help improve communication with our teams.
The energy and enthusiasm of the trainer was incredible. A true expert in her field and extremely skilled in delivering an engaging and relevant training course. The content was written from a Customer success prospective and was perfect for our teams challenges.
I just started a new job as an Enterprise Customer Success Manager. This course gave me great insights into the world of SaaS (coming from a very different industry myself). Even though structure is my nature - WbD gave me some additional valuable tools supporting the structure of meetings with my customers.
Perfect course for those who are looking for continuous improvement and practical strategies for the day to day with the client. All the lessons were practical and easily applied in everyday life. We had great results.
Certification
When you pass the exam at the end of the course, you will receive the following industry-recognized certification that you can post to your LinkedIn profile.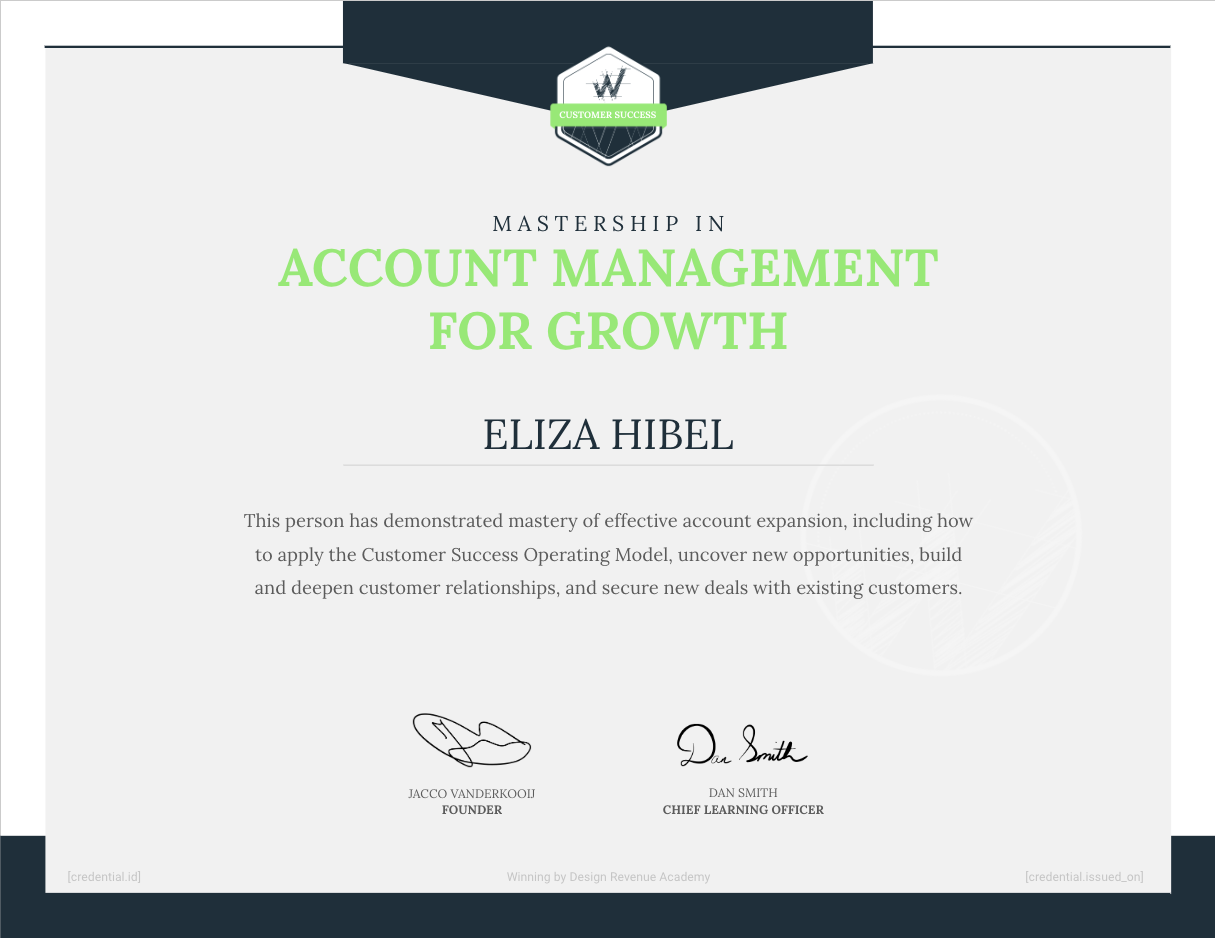 Training for 8 or more people?
Contact us to discuss private course options.