What is The SPICED Framework?
SPICED (Situation, Pain, Impact, Critical Event, Decision) is a diagnostic framework that makes customer impact the ultimate goal, at the forefront of all conversations that happen throughout the customer lifecycle.
Most methodologies are used by only one group within the GTM team (BANT used by SDRs, MEDDIC used by AEs). SPICED is a customer-first approach that unifies your entire go-to-market team, meaning that everyone uses the same methodology, language, and goals.
SPICED is purpose-built for recurring revenue businesses, where it is crucial for Sales, Marketing, and Customer Success to all deliver against the customer's desired impact over the entire course of the customer relationship.
MICRO COURSE
Introduction to SPICED
This short course (~45 minutes) will show you:
How to use SPICED to align your GTM team
How you can integrate SPICED with your tech stack
The transformative effects you can achieve by implementing SPICED across your team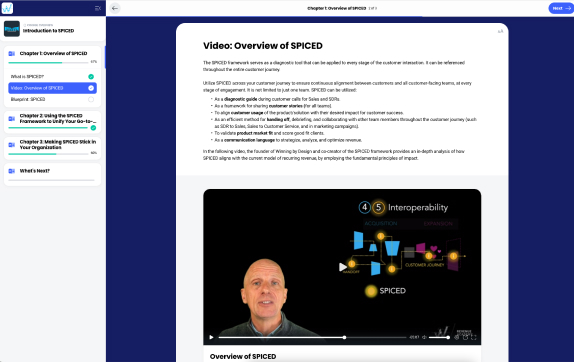 Get more info on the course
Register Here
Upon registering, you will receive an email
with a link to start the course.
The Elements of SPICED
Situation
Facts or circumstances relevant to the customer that determine whether the customer falls within your ideal customer profile and what is happening in their world (e.g., size of company, number of employees, software they use, hiring needs, security needs, revenue goals).
Pain
The problems the customer is looking to solve by purchasing (or considering to purchase) your product.
Impact
The results produced by solving the pain points. These are the outcomes the customer is trying to achieve. Impact can be both emotional and rational.
Critical Event
The specific deadline by which the customer must achieve the desired impact; if they don't, they will suffer negative consequences. Critical Events drive the customer's timeline for a purchase.
Decision
The people involved in the decision, the process they will follow to reach that decision, and the criteria they will use to conduct their evaluation.
Results from using SPICED
are typically not applying a complete methodology.
Improving the skills of those reps would mean driving
The most common mistakes made when implementing a methodology
More than one sales methodology is applied at different points in the sales process. Each methodology does not integrate with the others, leading to confusion and inefficiencies across the sales process.
The methodology is primarily used to help managers forecast, rather than to help guide the salesperson. This results in salespeople not seeing the value in using the methodology, and continuing to use their own individual process and system for working with their customers.
Marketing, Sales, and Customer Success are all using different methodologies, methods and metrics. The teams end up working toward goals that are not in sync with each other, with no uniform system and process to align against.
Reviews

I now use the SPICED framework within my role each and every day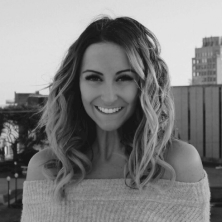 Lexi Temple
Corporate Account Executive | Asana
San Francisco, CA

We have implemented the SPICED methodology, which has really helped our onboarding.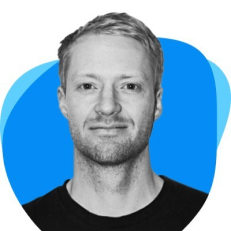 Felix Higgs
Director of Implementations & Support | Knak
British Columbia, Canada

I implemented the SPICED framework into my calls and it's enabled me to really understand my clients without sounding 'salesy'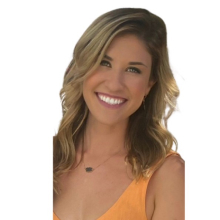 Alesia Venuto
Enterprise Customer Success Manager | Asana
SYDNEY, AUSTRALIA
MICRO COURSE
Introduction to SPICED
FAQs
Is SPICED only for Sales teams?
No! It's for ALL revenue teams. SPICED aligns your entire GTM team around a common customer-centric framework, including Marketing, SDRs/BDRs, Sales, Customer Success and Revenue Operations.
How is SPICED different from other methodologies?
SPICED does a few key things that other methodologies do not:
It's purpose-built for recurring revenue companies, pointing the entire revenue team toward the shared goal of getting the customer to their desired impact.
It can be used by ALL revenue teams (AEs, marketing, SDRs, CSMs). Most frameworks enable one particular team or motion (such as BANT for qualification or MEDDIC for AEs). With SPICED, all teams use the same framework, so that they speak the same language and can enable a consistent customer experience, no matter where the customer is in their journey with you.
Better visibility for leadership to make decisions. When all teams are using the same framework, you have consistent reporting across all teams. Clear reporting means that it's easier for leadership to understand what's truly happening across the business, where the gaps are, and what decisions need to be made to improve.
Is SPICED a consultative or provocative framework?
SPICED allows for both a consultative and provocative conversation, where the seller asks questions to understand what the customer wants (consultative), and encourages the customer to think differently or see a different perspective (provocative).