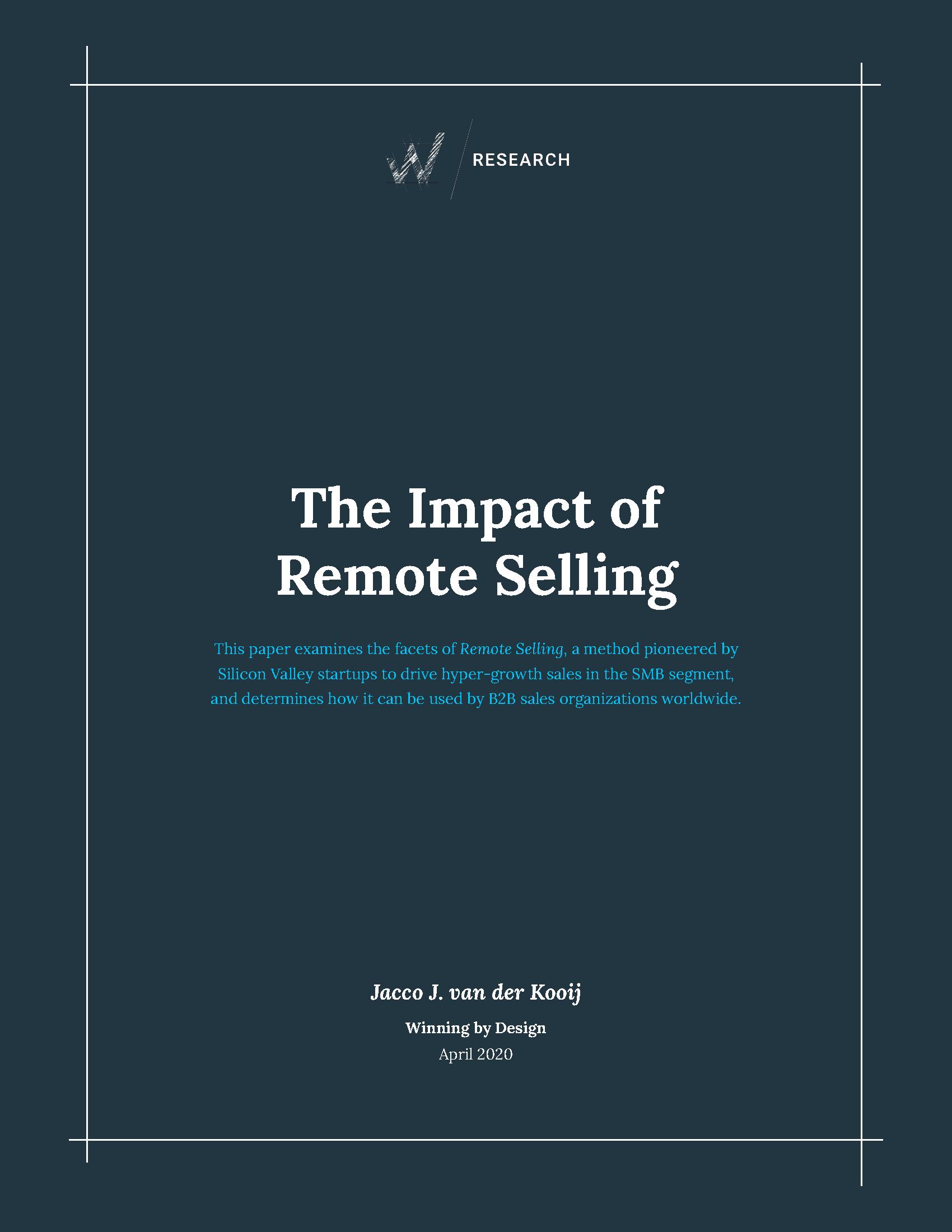 This paper examines the facets of Remote Selling, a method pioneered by Silicon Valley startups to drive hyper-growth sales in the SMB segment, and determines how it can be used by B2B sales organizations worldwide.
Download the paper for the complete view of the the mathematics and frameworks that prove these concepts, and for the suggested actions for Revenue leaders.
Summary Points: 
Inside sales teams successfully use Remote selling to sell SaaS solutions into the SMB
Two key elements of Remote Selling are (1) online meetings and (2) meetingless selling
Remote Selling reduces, and can eliminate, the need for in-person meetings
This has resulted in a reduction of the sales cycle
Companies will be able to use Remote Selling to accelerate sales cycles, increase win rates, and lower the customer acquisition cost
The use of synchronous selling via online meetings is widespread, but the use of asynchronous selling via meetingless interactions is still in its infancy
Key Findings: 
Today, many sales organizations still rely on in-person meetings to conduct business. If this applies to you, consider the use of Remote Selling. Over the past decade, many SaaS companies have demonstrated that Remote Selling is a highly successful formula for driving rapid and sustainable growth, especially in the SMB market. Larger-sized SaaS companies have started to embrace Remote Selling formats and techniques to augment in-person meetings, which is already proving to make an impact.
Finding 1. Remote Selling increases sales effectiveness. Reducing the number of calendared meetings and improving the conversion rate per meeting will boost the win rate.
Finding 2. Remote Selling increases sales efficiency.
Finding 3. Meetingless will outperform online selling.
Finding 4. Remote Selling accelerates the sales cycle.
Finding 5. Remote Selling can help companies gain market share both during and after a downturn.
Finding 6. Basic skill training is required.
Finding 7. Remote Selling will change the sales landscape.
Finding 8. Remote Selling requires a dedicated playbook.
Finding 9. Field Sales will go through a distinct change, similar to SMB sales in 2008.