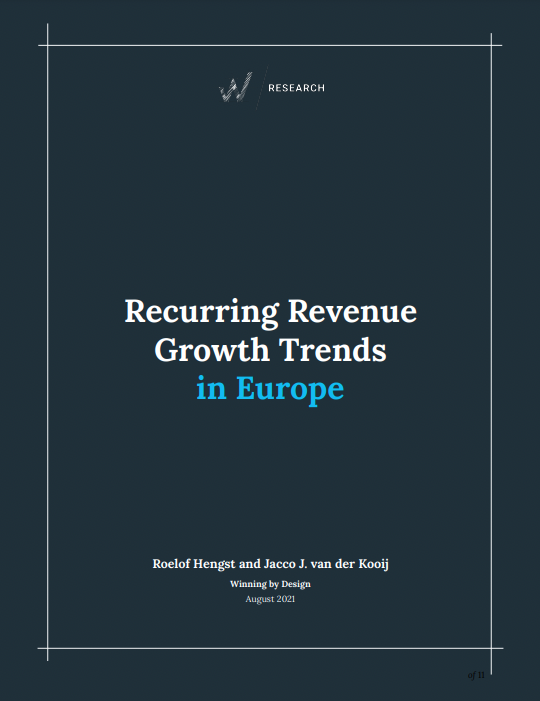 The findings in this report cover research conducted by Winning by Design (WbD) over the period from March 2020 to July 2021. Respondents observed that during this period, it was harder to generate new leads and win new deals. As a result, companies shifted focus to existing customer expansion and higher deal values for new business.
Download the paper for the complete view of the the mathematics and frameworks that prove these concepts, and for the suggested actions for Revenue leaders.
Summary Points: 
Winning by Design recently conducted a study to understand how conditions of the past 15 months changed software-as-a-service (SaaS) and other recurring revenue businesses in Europe. We looked at various go-to-market factors, including sales cycle time, deal size, conversion, and growth rates. We found that an increasing share of European SaaS companies are achieving hyper-growth status by focusing less on new business acquisition and more on customer expansion and higher deal values.
Unfortunately, as the business climate improves, companies told us they intend to return to pre-COVID growth tactics, reverting to emphasis on new business volume. We believe this is a step backward that will slow revenue growth, not sustain it. To avoid this, we have four recommendations for European companies who want to sustain hyper growth:
a. Install a standardized data model that includes the compound growth engine to monitor all critical conversion rates through the pre- and post-sale customer journey
b. Understand and deliver impact across the customer journey
c. Focus on expansion of existing clients
d. Measure and manage compound impact
Key Findings: 
Finding 1. Respondents experienced higher revenue growth, larger deal sizes and shorter deal cycles, but were challenged by market awareness and onboarding existing customers.
Finding 2. During an economic downturn, companies focus more on existing customers out of necessity. Because existing customers want help to achieve impact from your product, a common result is an improved product. When companies deliver more impact with a better product, both new and existing customers are willing to pay a higher price.
Finding 3. Respondents anticipate growth to continue in 2022. They are investing in tactics expected to deliver growth from finding more leads, closing more deals, and increasing deal size.
Finding 4. A disproportionate improvement in revenue can only come from the compound growth of existing customers. Reverting to pre-COVID tactics and shifting focus and resources away from helping customers achieve impact will slow down growth