Nearly all sales methodologies, apart from Product Led Growth (Ref. 9.), were designed for a perpetual one-off sale. MEDDIC (Ref. 8.) is no exception. It has long been one of the most effective sales methodologies used in enterprise sales. However, as it turns out, its strength is also the chink in its armor. In the case of MEDDIC, it applies a strong focus on 'closing a deal', which turns into a weakness when applied to SaaS Sales. Recent updates with derivatives such as 'MEDDPIC' (Paperwork) and 'MEDDICC' (Competition) add an even greater focus on closing. This extreme focus on closing causes challenges when applied to a recurring revenue business, such as SaaS.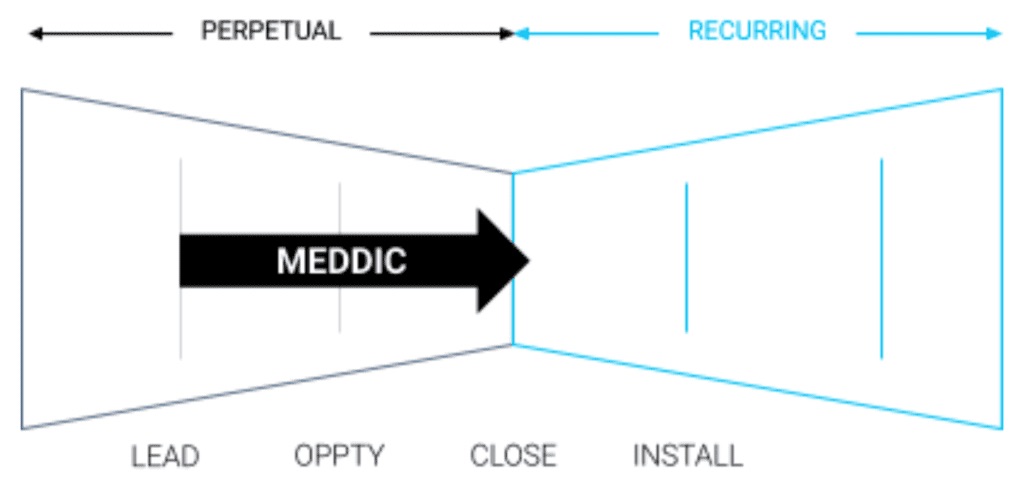 Figure 1. The application of MEDDIC in Enterprise Sales
In SaaS, the revenue is not paid up front, but spread over months or years. It is quite common for a profit to be realized 9 to 18 months (Ref. 14.) after the client makes a commitment. Any time after committing, if the client does not experience the impact they are looking for, they can and will cancel. So to earn a profit, you need a recurring revenue stream — and to earn that, you need to provide the recurring impact a client wants. The focus on "closing a deal" not only increases the churn — it increases the losses.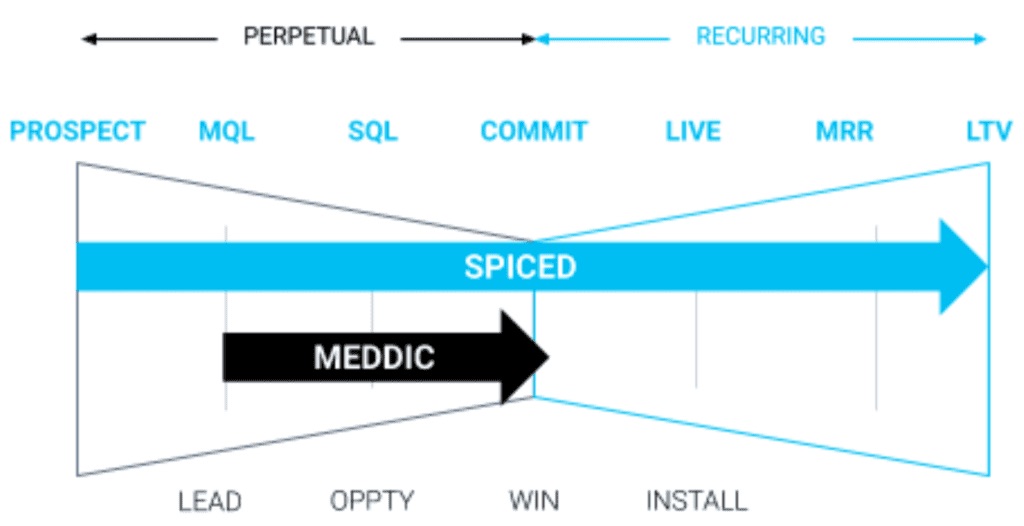 Figure 2. The application of a methodology to apply to Recurring Revenue

This demonstrates that we need to think differently here, that we need to treat a SaaS deal different from a perpetual one. Here are a few considerations: 
Recurring revenue is the result of recurring impact:

Gaining commitment from the right clients means that you first must understand the impact that clients are seeking.

Priority, not budget:

SaaS clients buy dozens of SaaS products, and their decision is not based on "

Do we have a budget?

" but rather, "

Is this a priority?

" So you must understand if the impact you can deliver matches up to your client's priorities.

Company wide, not just the sales team:

In SaaS, all departments (whether they realize this or not) are connected through the concept of Impact: Marketing raises awareness of the

impact

you can provide, the Sales team qualifies prospects based on the ability to deliver

impact

, and Customer Success is responsible for helping customers realize the

impact

that you have promised.

The risk is no longer on just the buyer:

With perpetual sales such as hardware, the risk mainly lies with the buyer; no seller will be fired for selling too much. However in SaaS, similar to a rental car company leasing out a car, the seller also faces certain risks, because the buyer will cancel if they do not realize the recurring impact they are expecting. 
Many SaaS companies using methodologies designed for perpetual licenses (Ref. 10, 11, 12, 13) are starting to see their conversion rates decline, and this is because their sales teams are not well equipped with a sales process that matches with the actual journey that a SaaS customer takes. By focusing their process only on closing the deal, those companies are preventing their Go To Market teams from providing the true impact to customers of which they are capable.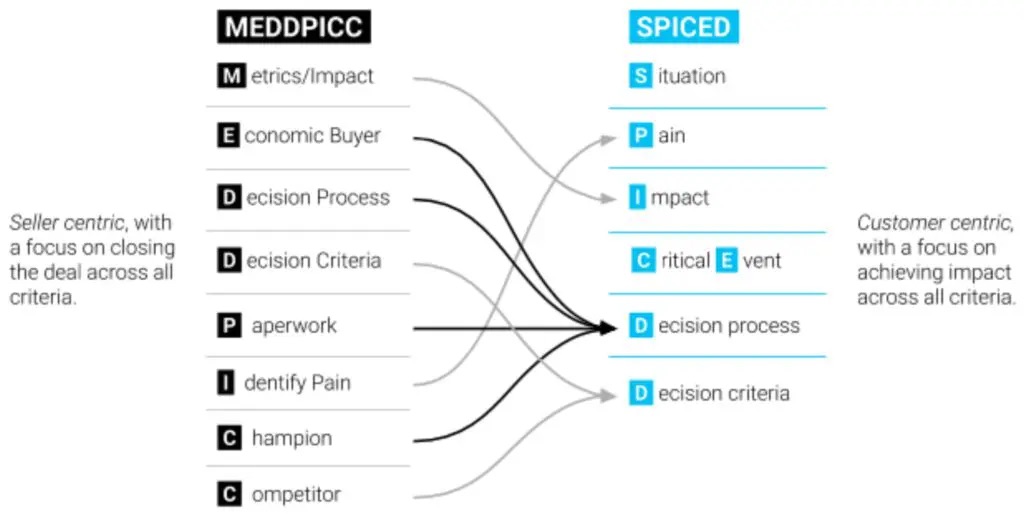 Figure 3. Mapping MEDDPICC to SPICED

We have created a methodology specific to a recurring revenue business, in order to address the full customer journey. This methodology is called SPICED. You can see in Figure 3 that MEDD(P)ICC focuses on the criteria that the seller needs to close the deal, while SPICED is a customer centric methodology that focuses on helping the customer realize the impact they are seeking.

Table 1. Implementation of SPICED to Sales Stages in a CRM
*The Proof of Concept (PoC) applies to a limited set of accounts
Table 1 depicts an example of SPICED being mapped across sales stages in a CRM (Ref. 5): in each stage as we approach Trade and Commit, we focus on a customer-centric element of SPICED to fully understand the impact the customer is looking to achieve.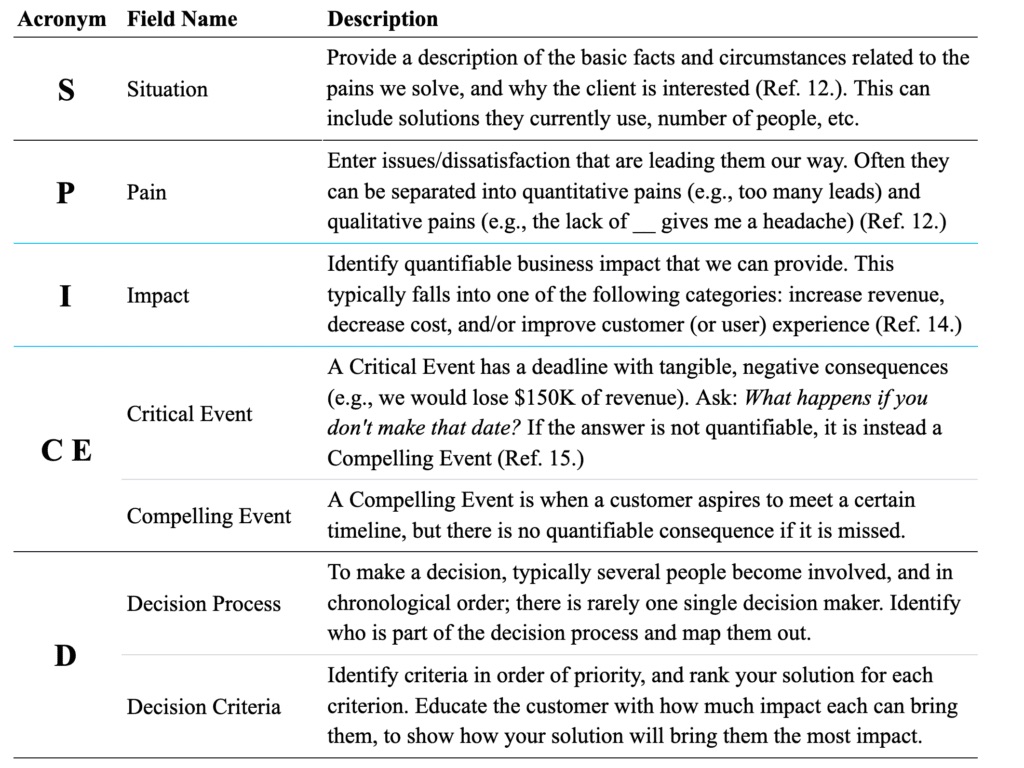 Table 2. Mapping Field Name and Description of SPICED to the Sales Stages in a CRM.
The SPICED framework can be used across all stages of the sales process. Here, we show how it works in the hand-off from Sales to Customer Success. As you can see in the boxed area labeled 'TRANSFER CRITICAL ACCOUNT INFO', during the handoff a strong focus should be placed on reestablishing the impact a client wants. After all, recurring revenue is the result of recurring impact.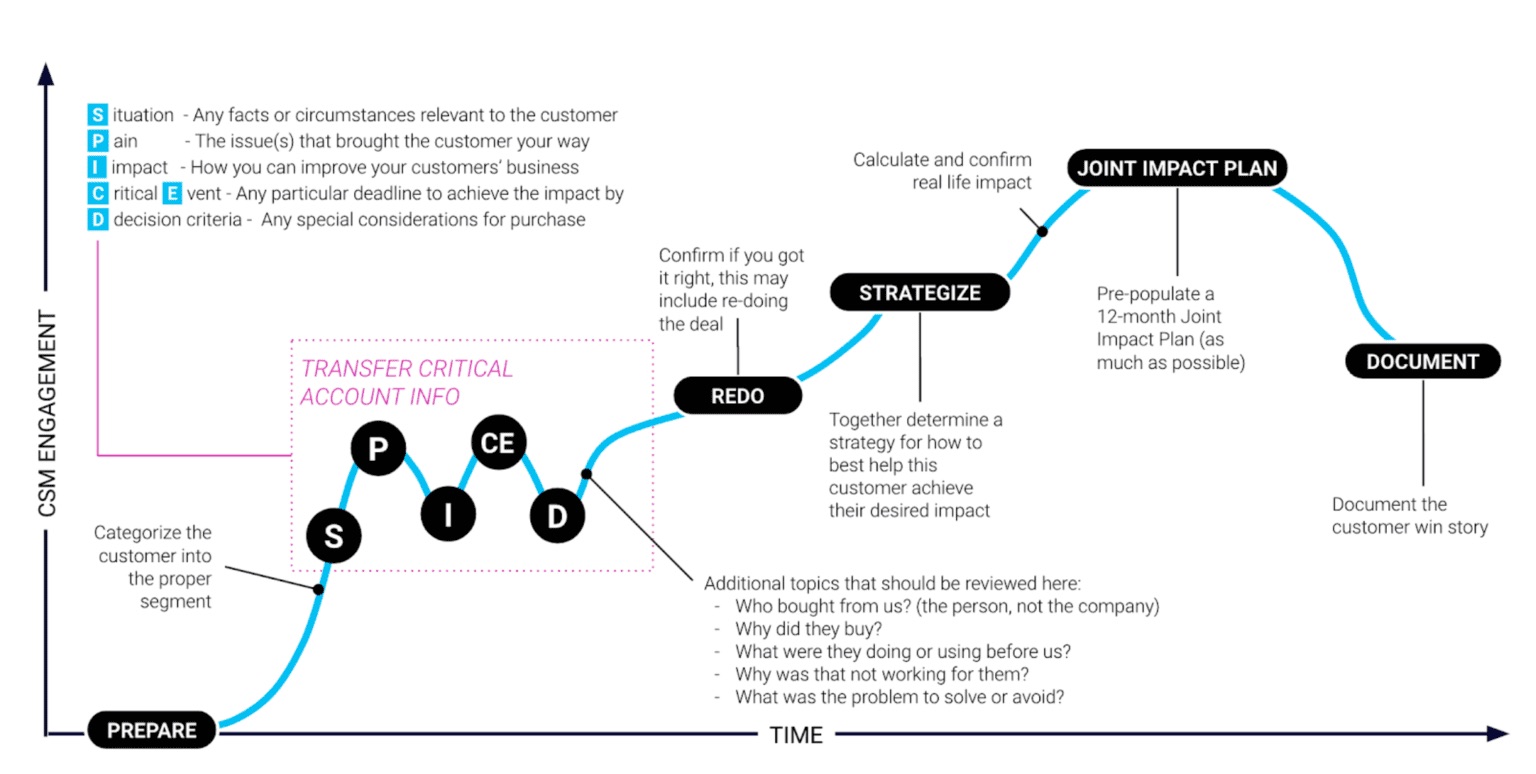 Figure 4. The use of SPICED in the hand-off between Sales and Customer Success
Reference material
Ref. 1.   2018 Expansion SaaS Benchmark (slide 30) – By K. Poyar and S. Fanning of Openview Advisors
Ref. 2.   Account Based Marketing by Wikipedia
Ref. 3.   Aligning Strategy and Sales: The Choices, Systems and Behaviors that Drive Effective Selling by Frank V. Cespedes via Amazon
Ref. 4.   BANT Opportunity Identification Criteria by IBM
Ref. 5.   Create a Sales Process and Use Opportunities via Salesforce and Trailhead
Ref. 6. Frameworks Governing B2B Marketing, Sales and Customer Success and Why SaaS Needs Its Own Framework by Jacco J. van der Kooij, Founder 
Ref. 7. How Adobe, GoPro, Microsoft, and Gillette Saved Their Businesses Through Subscription Revenue by PriceIntelligently via blog post
Ref. 8. MEDDIC Definition by SalesMeddic
Ref. 9. Leading with your product is the most effective GoToMarket Strategy by M Alon via Slideshare
Ref. 10. Seven Sales Qualification Methodologies  by Jeremy Donovan via Slideshare
Ref. 11. Solution Selling Definition and Research by Nadia Landman via blogpost on web-site
Ref. 12. SPIN Selling by Neil Rackham via Amazon
Ref. 13. The Challenger Sales: Taking Control of the Customer Conversation by Matthew Dixon and Brent Adamson via Amazon
Ref. 14. The SaaS Sales Method: Sales as a Science, by Jacco J. van der Kooij, via Amazon
Ref. 15. Trust Triangle Selling  by Daniel Adams.
Ref. 16. Updated Bow Tie and Lead Time Numbers by Martin Collings via Shearwater Blog May 14, 2009