Why we need it. How to structure it. What actions to take.
Scaling sales does not just happen by hiring more sales people. Over the past years I have seen that to scale a sales organization you need a scalable sales design.  In this post I will share insights how to setup a scalable sales design.
The Foundation: A Customer Centric Methodology
First of all, any modern sales organization must be founded on a customer centric methodology. What is that? In short this is an organization where marketing, sales AND customer success work together to help their customers solve their problem, to assist them in the selection, guide them with best practices during purchasing, provide swift onboarding, and share use-cases of other clients to establish ongoing use.  Only based on a solid customer centric foundation can a modern sales organization scale.
Elements of a Scalable Sales Organization:
Process: Build the right process (a series of best practices gained from working with clients, strung together in the right order)
Tools: Use tools to optimize the process and that act as a force multiplier (efficiency, effectiveness, UI/UX etc.)
Content: Enable the client with insights such as use-cases, metrics, and so on that can be distributed online
Skills: Train the team on excelling in online sales skills.  The training must be frequently, persistent, and include expert and peer based training
Organization: Build a modern and agile organization that can scale
And one more key element:
Data: Develop a data enabled organization, and make metrics driven decisions that use A/B testing.
Why do we need it?
Conventional sales organization design growth around the number of Account Executives needed per month, multiplied by their production in WINs, at a sustainable MRR/WIN to hit the growth target.
MRR per month = Number of AEs x WINs/AE per Month x MRR/WIN
Many sales leaders create spreadsheets that look something like the image below, in which they stack Account Executives (AEs) over twelve months until the growth goal has been met.
Why does AE stacking not work in SaaS sales?
Most subscription sales operates at a much higher velocity vs. conventional B2B sales —say 30 to 90 day sales cycles, and with a much lower annual pricing — usually between $6,000 — $60,000. To grow such a business requires a sustained volume of deals ranging between 10–100s of deals/month.
Compare this to a conventional account executive that wins 1–2 deals per month but at a much higher annual price often ranging between $100k-$1M.  In the conventional model production of the AE is the primary contributor to success and thus the above headcount spreadsheet determines the number of AE's needed. Over time many SaaS B2B organizations adopted this conventional growth model to scale their business as this is how they were taught to scale sales during the era of IT/IS sales.
The challenge with this model is that in subscription sales to generate sales, you need to win deals or rather MRR in volume.  And this requires other critical functions— especially in a high velocity environment where AEs are winning deals in 30 days or less.
As many of you know, today we need SDRs to develop 3–4 x the amount of pipeline (SQLs), a marketing team is needed to generate 10–50x the amount of inbound leads (MQLs) for SDRs to convert in pipeline, and Customer Success Manager are needed to onboard the clients and achieve the first value milestone so that customers do not churn before they generate MRR.
As you can see from the distress picture we are running into a scalability problem as the flow is disturbed. To scale the business a design is needed for high velocity/high volume/lower ACV.  This design must scale other key functions in relationship to growing the MRR.  This is where a sales POD comes in.
To Scale Sales a Scalable Sales Organization is Needed
What is a sales POD
A sales POD combines individuals in different sales functions that are directly dependent on each other but group them together as a team.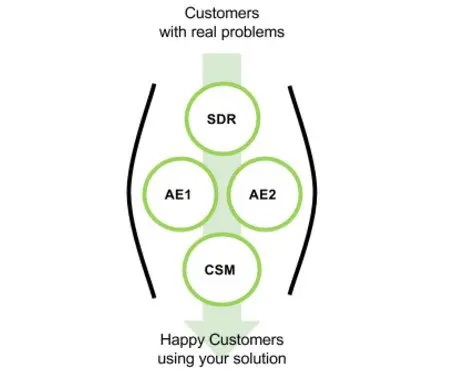 This group or POD is focused on making the customer successful from Lead to First Value, and they are often focused on a vertical market/region etc. to be most relevant for their customers.  This way the SDRs, AEs and CSMs only need to learn about a subset of use-cases but they get to know these use-cases in a lot more depth. For example selling to MedTech, or EdTech or FinTech.
PODs are metrics driven
The picture below depicts an example of the metrics of a Sales POD structure.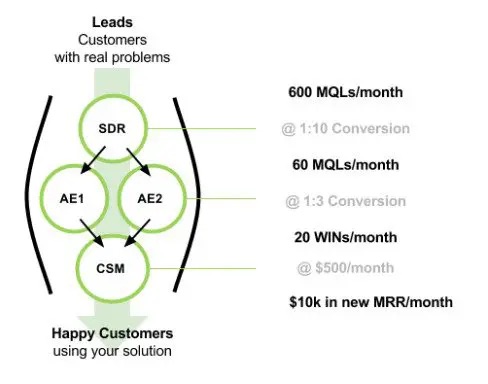 The arrows depict the dependency of the various roles and the flow of the business. In this example: every AE needs ½ a SDR and ½ a CSM so that the POD generates $1.44M in new ARR per year based on the ACV of $120k.  Not taking into account churn or up/cross sales.
If I add up the cost of this POD = 2x SDR ($80k*) + 1x AE ($120k*) + 1x CSM ($100k*), I get an idea of the RoI this POD is operating at. In this case:
ARR (@80%**): 0.8 x 12 months x $10k/month x for the next 12 months = $1.152M
COST: $80k + 2 x $120k + $100k = $420k
COST/ARR = 36%
*Bay Area Salaries as of January 2016, **PODs are designed for a 100% but should only operate at 80% capacity 
Based on specific business companies may need to add other key functions to this POD such as:
Web developer/Sales Engineer: Someone who helps with the technical sales, although this is more common in larger SaaS deals
Demo jockey: A person who does nothing but excel at giving online demonstrations to prospective customers
Scaling Revenue by Scaling PODs
In this case to grow to $30k in MRR you need to have 3 fully ramped PODs.
The above model also depict how to scale the business from an Organizational perspective. As new PODs are launched, top performers from POD 1 will be (promoted) tasked to setup POD #2 and #3.  This is a scalable model that allows for rapid scaling. We will address in future episodes how to leverage a POD infrastructure.
A couple of pointers:
Per @Talha Husayn's (see comment section), early stage companies can use this model to kick-start. As outlined in the visual below they'd kick-start with 2 SDRs and use 1 AE.  As marketing comes on and inbound grows on of the SDR positions promotes (with applicable training please) into an AE position. E.g. the 2:1:1 becomes 1:2:1.  From this model you can then grow to a 1:1:1 (Phase 3a) which is more common for larger ACV platform sales that need more depth and involvement from the CSM vs. the 2:3:1 (Phase 3b) which is more applicable for a simpler product such as a chrome extension that has little need for a CSM (may even go 1:3:1).
Make sure you know how long it takes to ramp a POD to achieve 80% (in days)
POD structures can differ e.g. operating at a lower cost 2 SDRs/3 AEs / 1 CSM (2:3:1) or higher cost 1 SDR / 1 AE / 1 CSM (1:1:1)
Use capable leaders to start a new POD regardless of their role.  E.g. Not just AEs need to be the POD leader, CSMs and SDRs can also be used to start a new POD as long as they have leadership potential/experience
Involve POD members in the hiring of new team members and firing of non performing members
Don't just assign PODs to dedicated zip codes for an entire year. Instead follow your business – assign PODs to vertical markets month by month as the business dictates.
Learn more
Harvard Business Review recently did an article on a related topic, indicating the importance of the sales process over hiring star sales people.  You can read more about it by following the link below: Hiring Star Sales People Isn't The Best Way To Grow Sales.
Next steps
If you want to get involved we frequently offer Sales Design workshops at Storm Ventures where these and many other best practices of building a scalable sales organization are shared. Since these events are local we have captured the key concepts in videos -you can find them at the Storm Sales Mentorship portal