In recent years, there has been an explosion of tools and technology to support sales, similar to what Martec's Law predicted.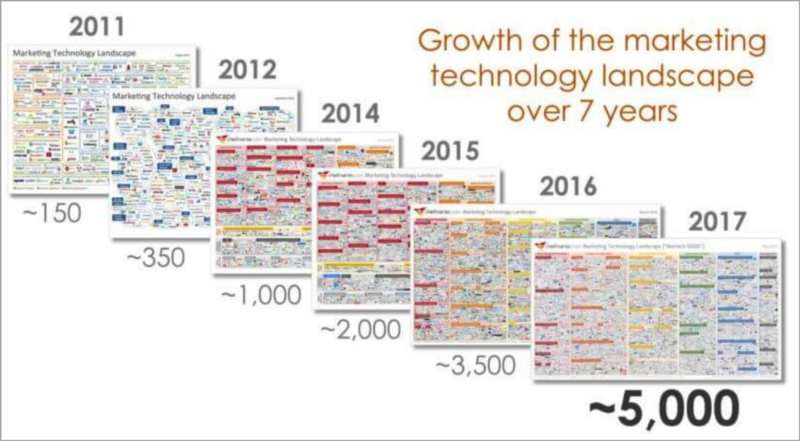 Image Source: Chief Martec
As you can see from the graphs above, technology is changing at an almost breakneck speed. The team over at Bowery Capital have put together a fantastic report in collaboration with G2 Crowd that showcases the results of surveying 500 scaling companies about what they use to drive sales.
Bowery Capital also provide a compelling visualization of the current sales technology landscape.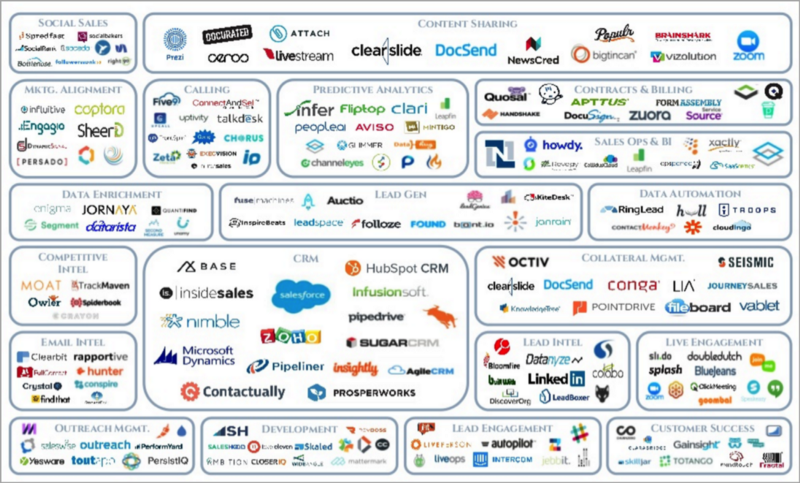 While there are numerous tools available to sales professionals today, none of them are going to make you sell more on their own. You need to have a strong process in place before you add tools.
You know why? Because the greatest tool you have to move the needle in sales is already in your hands: your salespeople.
You need to create a constructive culture and cultivate talent with targeted, impactful training. When you add tools that align with existing sales processes, the technology simply acts as a force multiplier.
When you add tools that align with existing sales processes, the technology simply acts as a force multiplier.
At Winning By Design we like to look at existing sales stacks as they align with the customer's buying journey and the tools utilised at each stage.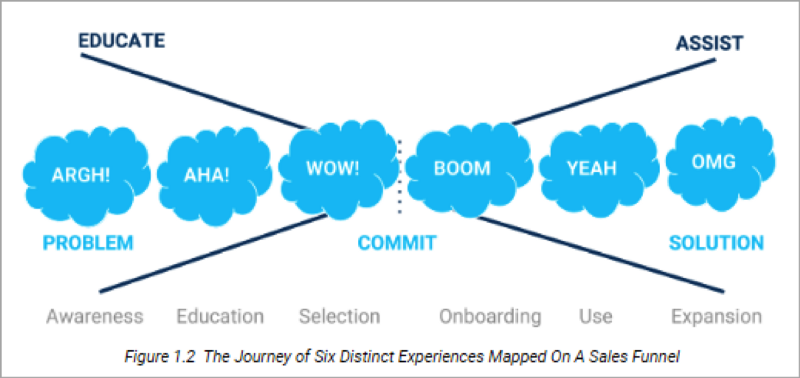 Here's an example of how sales tools and technology can help you along each stage of the way: from Suspects to Prospects, Leads to Opportunities; Won Opportunities to Growing Accounts.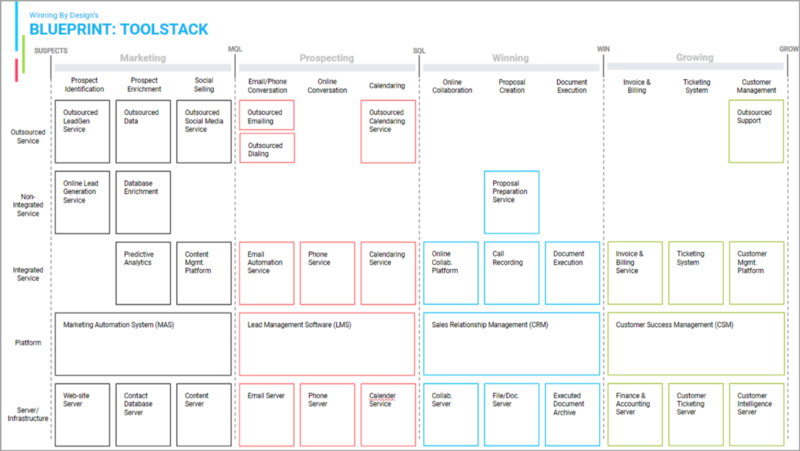 Now, let's take a closer look at the latest tools that can help you through each stage of the process.
Because choosing the right tools means closing more deals, and giving your team more freedom to do what they do best.
Marketing
CRM (Customer Relationship Management)
Your CRM is the heartbeat of your sales organization, managing not only your sales activity and creating a database of your content, but also helping you get a good picture of the current business landscape.
Think of it as a contacts list with a brain. Traditionally, a CRM was designed as a tool for sales management teams to help them forecast future deals. But the functionality has evolved so much in recent years that a CRM is much more than that. It's a goldmine of opportunity for salespeople with added features to help you work more efficiently — like the integrated calling software which eliminates the need for double entry, and calendar software that lets you send global links to prospects.
The top customer relationship management (CRM) software solutions include Salesforce, HubSpot, Infusionsoft, Pipedrive and Zoho. They all have a myriad of features, and provide both an efficient way to maintain contact with, and upsell to existing customers, and a system to woo back inactive customers and target new marketing.
Social Selling
LinkedIn is now widely accepted as the social network of choice for business professionals, and social selling is a vital part of the modern sales landscape.
As a matter of fact, LinkedIn's SlideShare on Achieving Social Selling Success revealed that 62% of employees at large companies agreed that social selling enables them to build stronger, more authentic relationships with customers and prospects.
The same LinkedIn SlideShare revealed that 81% of buyers are more likely to engage with a strong, professional brand, and that 92% of B2B buyers engage with sales professionals if they are known industry thought leaders.
So what do you need to know about LinkedIn as a sales tool?
Well, this is where we talk about two of my favorite topics, the Ideal Target Company and Ideal Customer Profile. LinkedIn is an incredibly powerful place to source that kind of customer data.
You can use the Paid or Premium version, or even step it up to include Sales Navigator, which gives you a whole bunch of additional functionality that will help you identify and target ideal companies and individuals. If you want to get the most out of LinkedIn, you won't get by with just a basic account.
Treat LinkedIn like the modern sales tool that it is and use it to your advantage.
Salesforce has a great infographic for beginners to social selling.
Outreach management
Your use of outreach management is a little bit dependent on your go-to market approach.
For example, if you have a low average contract value and you're in a high volume environment, then there are all sorts of outreach tools that are fantastic in allowing you to create more scale in your prospecting activities.
Conversely, if you are in a high average contract environment, which inherently brings with it lower volumes, the outreach tools you need will slightly differ from the "at scale" approach… they need to be more robust and easily personalised.
There are some really great movers in the outreach management market. I would strongly suggest having a look at Outreach, ZenProspect, YesWare and SalesLoft. MixMax is an interesting newcomer that's providing a lower cost option too.
There are also many different email productivity tools that help you to be productive right from your inbox if that's what you prefer. Right Inbox is one example – it's a Gmail extension that allows you to schedule email follow ups, set email reminders, and track emails all within Gmail. Do your research, and determine the right tools that work with your team's tool stack and workflow.
Suspects analysis
As the name suggests, a lot of this falls within marketing's domain. But as salespeople we ought to be able to identify our sales 'suspects'. And there's amazing technology now to make this easier.
Take for instance Datanyze. Datanyze is a great tool that utilizes artificial intelligence to help you identify the next best customer, or the next best company that you need to target.
It lands at the premium end, but there are some other great tools available at a lower cost. One is BuiltWith and another is Clearbit.
Now, if your marketing department is already doing a great job at identifying leads without you needing to intervene, there are still some other fantastic predictive analytics tools to help you prioritise your inbound leads to ensure that you're only being served the suspects with the highest propensity to buy.
Here are some of my top picks when it comes to predictive technology and predictive-powered marketing: Cloud9 and Lattice Engines.
Becoming focused on predictive lead scoring to determine which 'suspects' or prospects are more likely to respond to specific pitches is a big part of performing at the top of your sales game.
Prospecting
Now let's move onto the next stage of the curve and talk about prospecting. In previous articles I've talked about the power of email, but it's important to remember that prospecting really does need to happen over the phone.
The following sales tools can enable you to track and manage not only the effectiveness of your phone activities, but the efficiency with which you dial.
Talkdesk — a cloud-based call centre software solution that helps companies create digital call centers that integrate with their other internal company software.
PowerDialer for Salesforce — an integrated system that allows you to contact, connect and close more deals.
Ring.io — a CRM integrated sales telephony platform that helps you enhance existing processes and integrate detailed call data directly into Salesforce.
Using any of the above tools you will find you can build and execute a sales call cadence more efficiently, and better yet, combine it with your email cadence to close more deals.
Calendaring
The next set of tools I'd like to focus on involves calendar software. The whole idea of a calendaring service is that it stops a lot of the email back and forth between you and your prospects, about when is a good time to meet. It presents both you and your prospects with your calendar availability so that you can work out a time that's appropriate for both of you.
One of the best tools out there is called Calendly. It's a wonderfully simple tool that syncs seamlessly with your calendar. Features include the ability for multiple invitees to schedule the same slot, a 'round robin' system for rooms to be automatically distributed among multiple team members, and the ability for your entire company or department's availability to be displayed on one convenient page.
Another one is called x.ai. Now, this one effectively offers a calendar scheduling bot called 'Amy' that emails your prospects on your behalf and manages the email interaction that ensues, using the availability in your calendar.
A lot of CRMs also provide calendar services, including HubSpot and SalesforceIQ. Even the outbound messaging service MixMax is offering one. So take your pick.
Winning
Everybody likes winning, right?!
And that's the next stage of the process, whereby you diagnose the customer's problem and prescribe a solution.
Listening
A big part of doing this successfully, dare I say 'winningly', is actively listening to what the customer has to say and then presenting them with the right solution in the right manner.
This is where technology can really help by recording, transcribing and analysing your sales conversations in real-time, and highlighting important moments that reveal why you win and lose deals.
Chorus.ai is a great sales tool that uses artificial intelligence to analyse sales conversations and learn how sales organisations can increase their win rates. There are burgeoning market opportunities for AI and natural language processing to help organisations have better conversations that close more deals… but that's another story. What you need to know is simply that Chorus.ai is a pure SaaS offering that transcribes, analyses and delivers real-time feedback on sales conversations.
Gong.io offers a similar conversation intelligence program. It gives you instant clarity on what's good, bad, and ugly in each sales call.
ExecVision is also good — providing visibility into conversations happening every day throughout organisations and offering up a new set of analytics to gauge performance.
Live engagement
Another part of the Winning process, in my books, is live engagement. When I talk about live engagement, what I'm really talking about is simple and seamless screen sharing and engagement during live conference calls.
There are a couple of great players out in the marketplace to help you nail both: the first being Zoom, a video communications platform that uses cloud computing, and Join.Me, a top video conferencing pick for small businesses.
At the higher end of the field, you've got GoToMeeting, an extremely professional-looking web meeting solution.
Documentation
Ever need to find a particular piece of content at just the right time?
Try using Seismic, BuyerDeck, Octiv or Bynder to manage your documents on any device.
Seismic allows you to access content from anywhere — within Outlook, on Salesforce or on a mobile device. It makes it super easy to collaborate and whenever you update any fact, logo, case study or ROI model, the changes are automatically made to every piece of collateral you have in your system.
BuyerDeck works in a similar way to equip your team with all your latest and greatest content, and collate a collection of relevant content in a snap. It measures what's effective and tracks everything about your customer's buying journey right down to the amount of seconds spent on a single page.
Octiv streamlines document workflows that connect systems and data for a better end-user experience. It powers documents for sales and legal — freeing you and your team up to be more productive.
Bynder is one of the more robust cloud based document management solutions, it powers some of the worlds biggest brands to create and find the digital assets when they need it.
It's really important to be able to find the right piece of content at the right time when you're conversing with clients because as we all know, people rationalise emotional decisions with data.
Document sharing use to revolve around PDFs. With today's technology you should send around all your proposals, quotes or even product info that may be contained within a PDF, but not the PDF itself.
You know why? Because technology has made it possible to share live or active documents so that you receive alerts immediately — unlike when you share a PDF. Use tools like attach.io and ClearSlide to make a live document.
Oh, and when it comes to building proposals and quotes without having to dust off a fax machine and find a pen, try something like PandaDoc or Proposify. Qwilr provides a great option to add some personalisation to proposals and quotes, and DocuSign is one of the leaders in the e-signing space.
Growing
This stage of the sales process begins when you've already established a relationship with your customer or client, and you're looking to expand it beyond the first basics you discussed. This is vital because it ensures they're receiving recurring value from the product or service that you originally delivered.
As I mentioned in a previous post about how to drive account growth, you need to be able to leverage activity in the usage of your product or service to identify opportunities to up-sell and cross-sell.
Live chat
To learn more about how your customers are engaging with you and your product or service, live chat is a great option. There are a few great tools to facilitate it.
The first one is Intercom, which is especially good for on-boarding as it allows you to immediately respond to any concerns or questions, keeping new customers happy. It uses customer messaging apps for sales, marketing, and support, and has some fantastic plug-ins.
In a similar vein, there's also Autopilot.
And if you're interested in the more 'pure chat' tools, there's Olark, LiveChat, and a super young, exciting startup from Boston called Drift, which is using AI to chat on your behalf.
Customer success
One thing that has really come to the forefront in recent times is the importance of managing your customer's success. And so, a whole new category of tools has been created purely to help your customers be successful.
Whether that be by managing and measuring people's different cohorts of customers and their lifetime in your service. Or even just measuring and managing those simple customer interactions.
You want to be able to create really strong success plans with your customers to ensure you are working towards the same goal.
There's two clear category leaders in this space. The first one being Gainsight, who recently held their pulse festival on customer experience. Then there's Totango, who also recently held a customer success event called the Customer Summit. Those two are really vying for the title of "category leader" in the customer success management space.
Conclusion
There are thousands of bright and shiny sales toys you can use to impact your sales performance. But buying tools for the sake of it can be very distracting.
Align them to your process. Test them selectively, and objectively. Integrate your sales tools with other marketing solutions, and adopt a context-switching attitude for optimal efficiency.
Good luck, and happy selling!