The right structure for your customer success organization often depends on the type and stage of your company.
Typically, you will start your customer success organization with a couple of generalists and gradually you will break off more specialized functions. If your team is too small, the overhead of specialization is too high. If you create five different roles, you also need five job descriptions, training paths, etc. and there isn't much learning amongst team members. Usually, specialization happens with scale. See below a logical progression: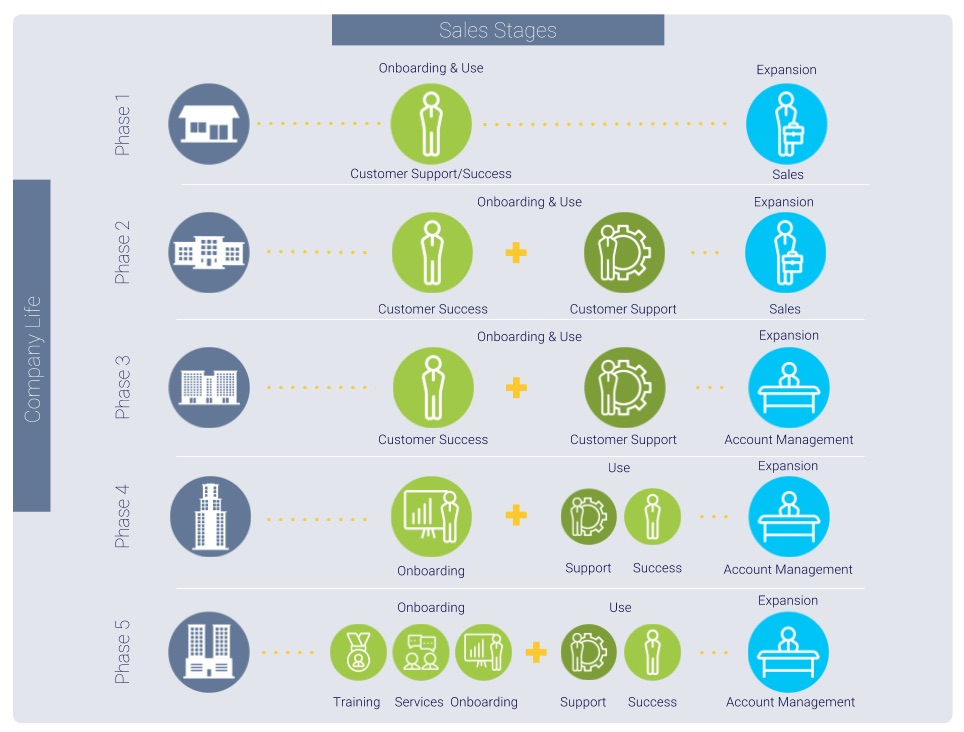 Phase 1
…most companies start with a single customer success manager doing everything from onboarding to usage (pro-active and re-active) and then specialize over time. Renewals and expansion sales are passed back to sales.
Phase 2
…many organizations find it necessary to split the pro-active customer success from the re-active customer support. A 24×7 customer support service can thus be provided to customers (often at an additional cost).
Phase 3
…a dedicated Account Management (farmer sales) organization might be created (as part of sales) – allowing some reps to focus on new business, whereas others focus on existing customers.
Phase 4
…or sooner for companies with a time-consuming onboarding process, a dedicated onboarding function handles the first months of a customers' life. Make sure that you still have a strategic kick off at the start of onboarding as well, talking about the customers' goals and the roadmap to get there.
Phase 5
…customers may start to demand more services beyond onboarding. This is when you might start a professional services group as well as a dedicated training function within your customer success organization.
The more specialized functions you create, the more knowledge sharing and handoff issues you will experience. You will need to invest in well-defined processes (including handoff) and information technology systems so the customer doesn't have to explain themselves again and again.
Final Thoughts on Customer Success
For many companies, the commercial relationship, including contract renewals, will remain with sales or account management throughout the life of the company, with customer success responsible for renewal rates and lead generation of upsell opportunities. Customer success may have 20%-30% of salary be variable, tied to MBOs along these lines.
And remember, exceptions confirm the rule, so your context may be different.
Please share your evolution story in the comments.